When you're here, you're family. We make you the priority to make sure you not only meet your goals, but that you surpass them!
Don't just take it from us though, take it from the proof of transformed clients!
Read below to see the transformations and hear about the experiences of the Jeni-Fit family!
Client Spotlight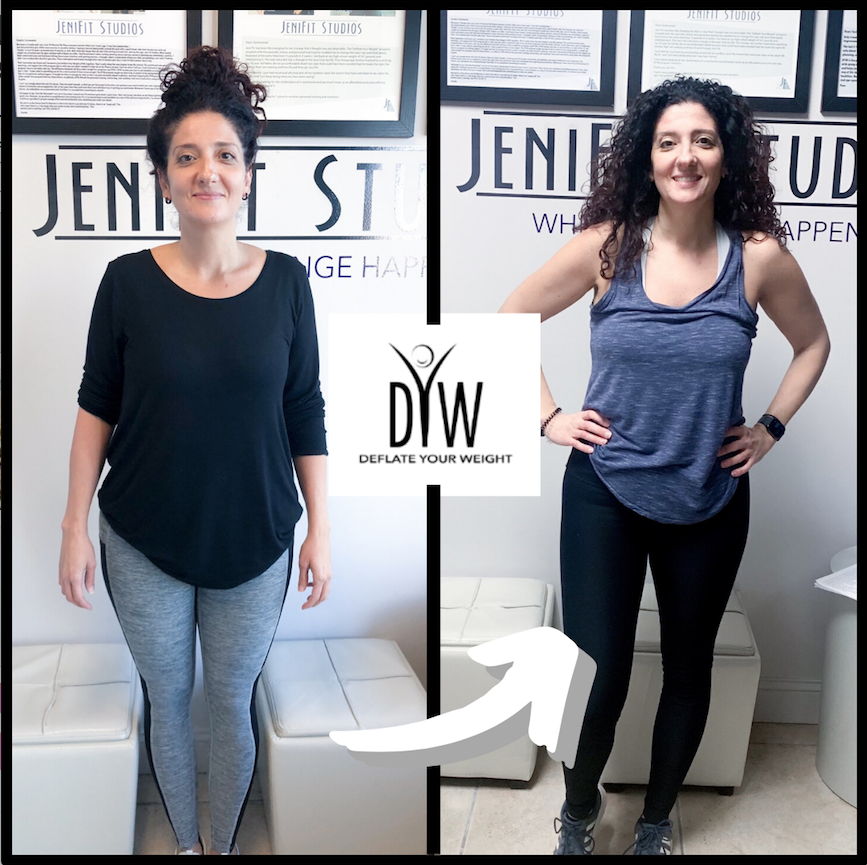 The past three months have been such an amazing experience for me at Jeni-Fit. In such a short period of time, I have become stronger, dedicated, and my energy level has increased tremendously. I am sleeping better and overall just feel happier about myself.
Deflate Your Weight (DYW) has also helped me feel great. Through this program I have learned to incorporate other healthy foods before turning to my addiction, sugar!!! The DYW program and instructors/teachers have been there every second of the way to help me reach my goals.
I believe that one of the hardest parts of getting back into exercising is finding a place that fits your needs, as well as having amazing instructors. I have finally found that place here at Jeni-Fit. I also LOVE that class sizes are small, therefore help me stay motivated and keep me focused.
-Rosa C.
Almost two years since I participated in the Deflate Your Weight (DYW) program at JeniFit Studios- I am officially 30lbs down from when I began!
In the beginning of the lockdown, I had a decision to use this chaos as an excuse to stress-eat and binge or as an opportunity to improve myself. I went back to the skills I learned in DYW, followed the meal plan and exercised on my own. Through this dedication, I was able to get 8lbs off in 12 weeks and am feeling confident for the summer!
-Kaitlyn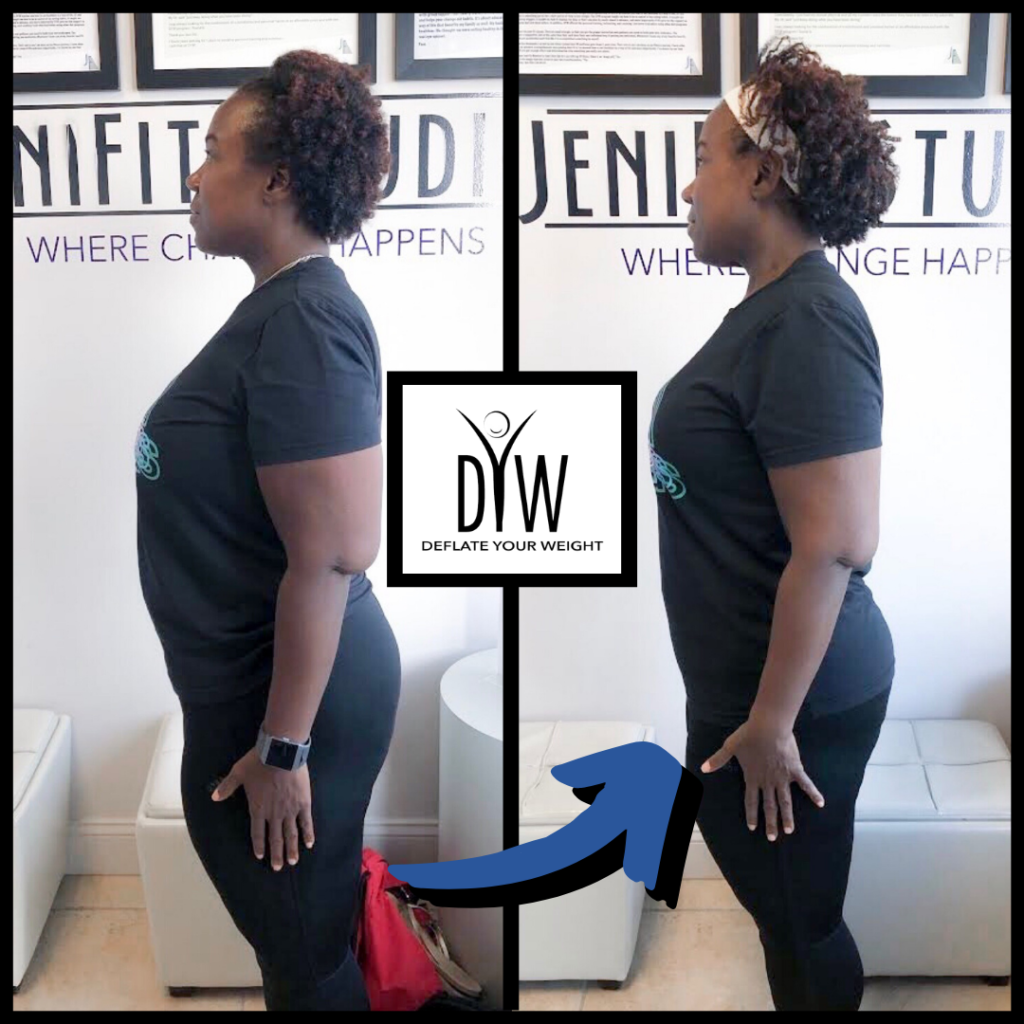 Attending Jeni-Fit classes has change my mindset regarding small group training. So much more attention than a big box gym! Although it's been very challenging… I'm excited about my progress. Down 10 lbs since I started!!! You should have seen me balancing on the Bosu today!!!
Lisa
I needed to kick start my diet and exercise routine and I had seen some posts on Facebook about Deflate Your Weight at JeniFit Studios. I thought I would give it a try and I'm so happy I did.
The classes have been great- a lot of things I've never tried before like TRX, Spin, and Kickboxing. The encouragement and support I've received from everybody at JeniFit has really made the difference for me in my fitness journey.
Since joining JeniFit I have been losing about two pounds per week steadily even through the holiday season!
Kathy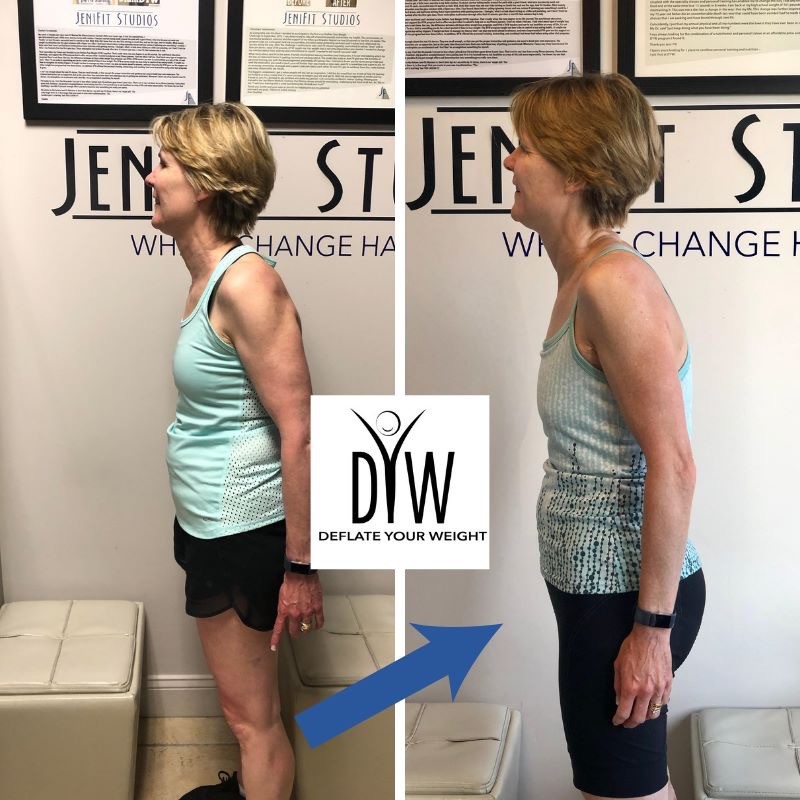 "I can't thank JeniFit Studios enough for changing my life over the last six weeks – I joined the Deflate Your Weight program to get myself back on track to better eating habits, exercise and fitness and it has been a truly wonderful experience!
I was always someone who was very athletic growing up – involved in several sports in high school and played Division 1 Women's Volleyball and always physically fit. I somehow lost that as I got deep into my career and raising a family and could never find a gym or program that really got me hooked. But when I walked into Jeni Fit – something felt different! Jeni Fit is a welcoming community lead by an amazing leader who personally wants to help all her clients! Everyone is so friendly and supportive and the DYW program was so helpful! I can't thank Jenifer Wirtshafter and Mary Goyette Roth for all their support and help! Laura Traverse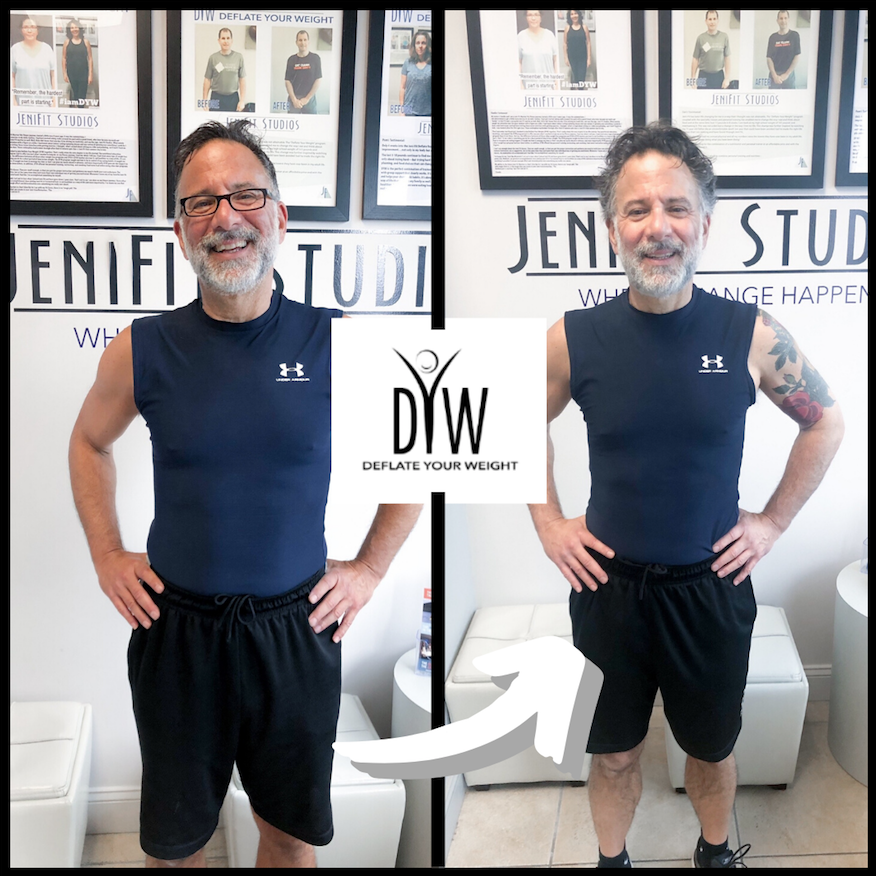 Made my way to jeniFit by total accident. I wrote down a wrong address and ended up at a different gym. Best mistake I ever made! JeniFit is more than just a gym. Really is a family like atmosphere. From those who are working out to all the staff and instructors, everyone cares. Whether working out one on one or participating in group classes, all the workouts are planned thoughtfully. Started my weight loss journey in January of 2019 and 1 year later, 7 months of it at JeniFit with the help of Deflate Your Weight, I am down 40 pounds. Remember, you could Benefit from JeniFit (Sorry, just couldn't pass that up!)
Bryant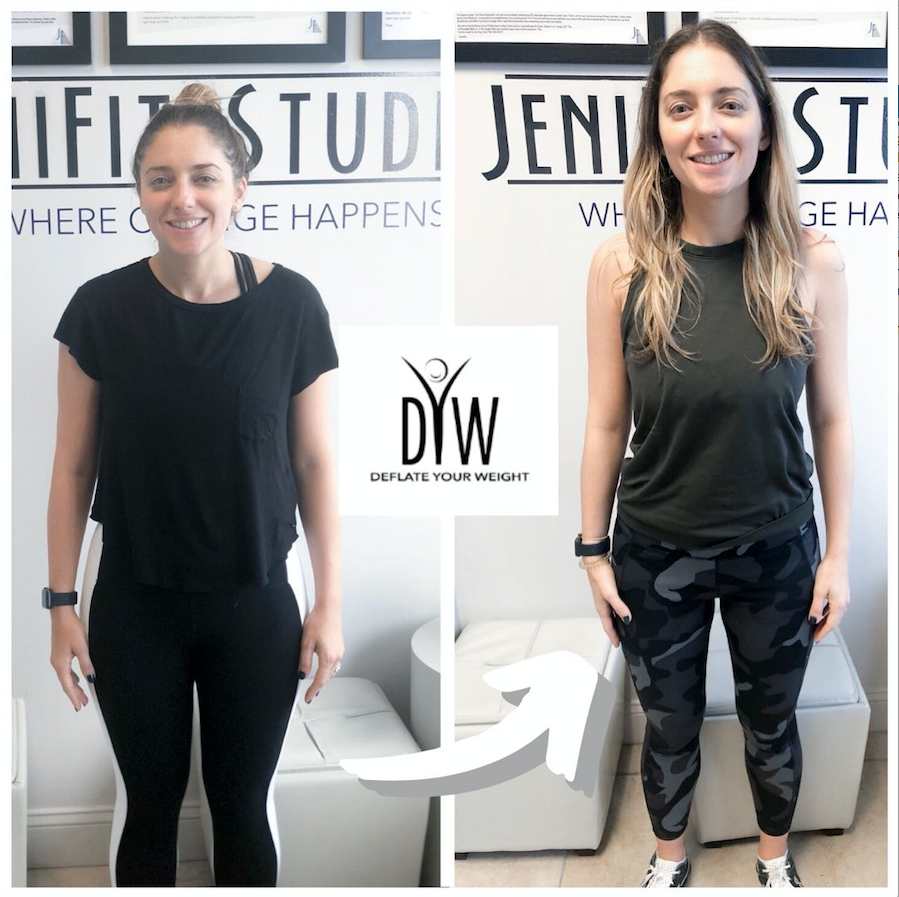 Lost: 10lbs, 10inches in 8 weeks
Gained: Strength, happiness, gratitude, perspective, and empowerment
After having twins 2.5 years ago it was time to for me to get back to my old self. Small changes led to big differences with Deflate Your Weight (DYW)! I was reminded that I can find 1 hour a day for myself!
Some FYW changes included eating dinner before 8pm, drinking more water, planning easy healthy meals, cutting back on drinking and setting days for drinking, and trying to work out 3x a week. Thanks to Jen and team for reminding me I can invest in myself and I CAN find the time.
I feel so much better every day and mostly at night I'm no longer reflecting on poor choices I made when eating, rather complimenting myself for all the hard work.
Chelsea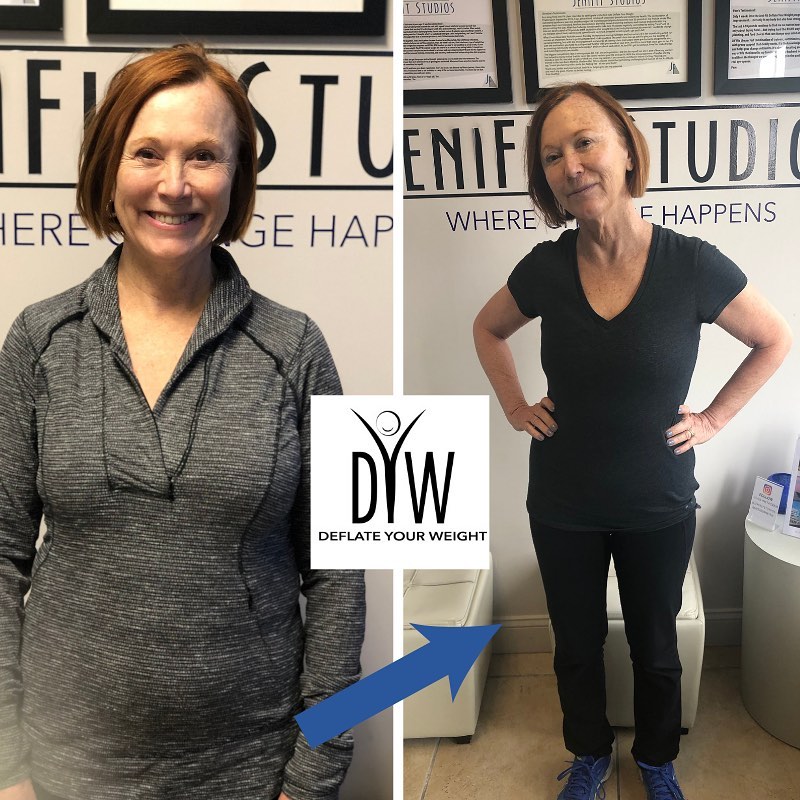 Through the 8 week program I was able to understand nutrition, become a more educated grocery shopper, change my eating habits, ramp up my exercise routine, lose inches, get stronger, and reach my desired weight! I feel these changes are sustainable into "real life" and I feel great!
Mary Alice Ryan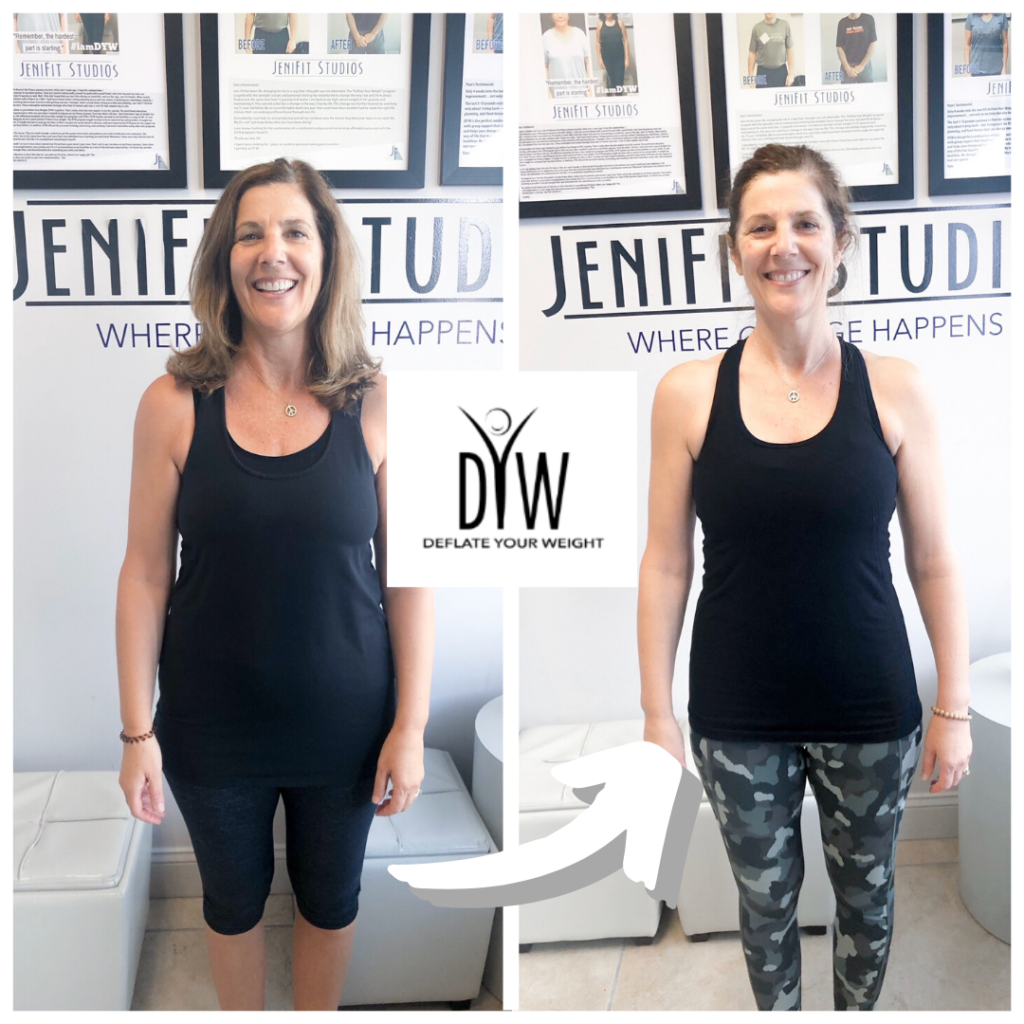 I'm so glad I found JF! I don't have to drag myself to the gym anymore – I actually enjoy the workouts. I swore I'd never spin and now it's one of my favorite workouts.I'm a terrible skier but I promised my daughter I would build up some strength and ski with her this year and I'm going to keep that promise!I've learned a lot in Deflate Your Weight (DYW) that will help keep me on track to stay fit and healthy so I can keep up with my active family. Down 15 pounds and feeling great.
Lisa Rossen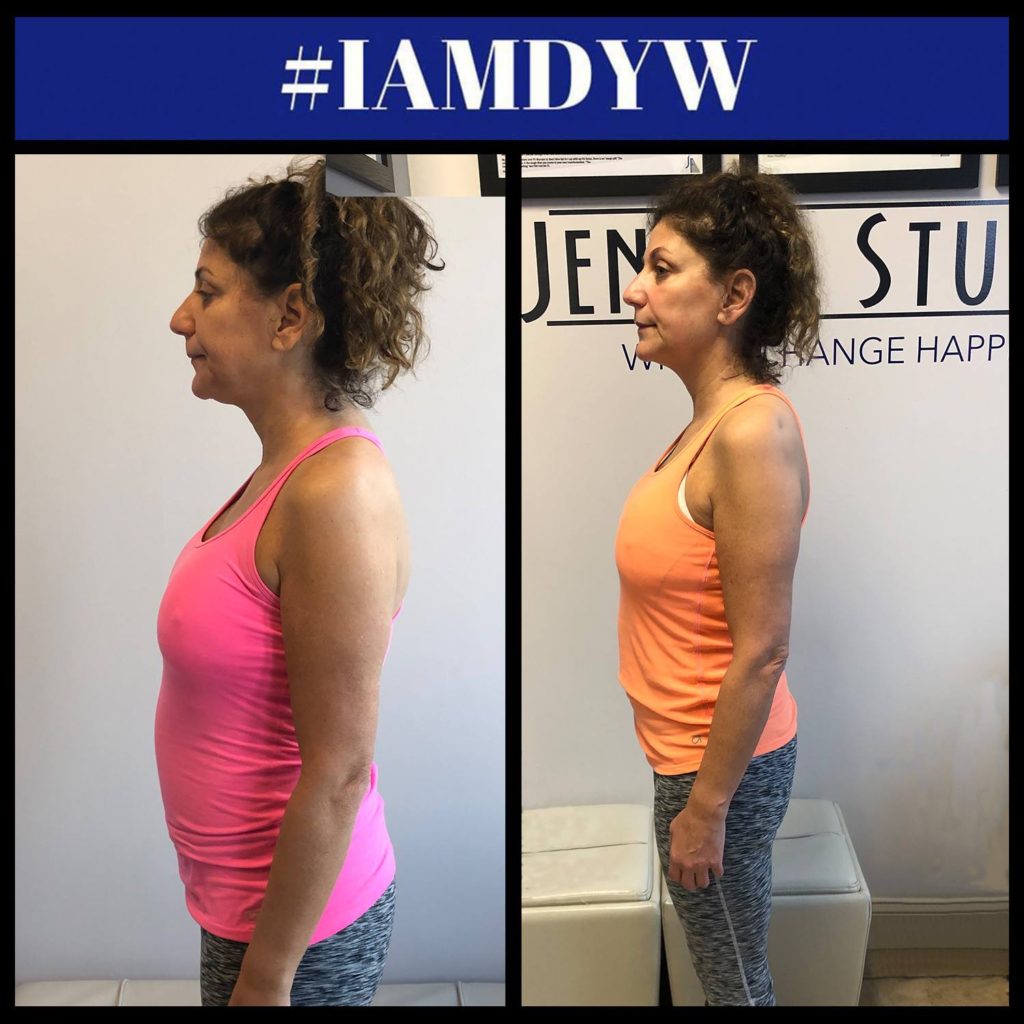 "I did Deflate Your Weight (DYW) 3 years ago with my daughter and we both had great success. I lost weight and inches and felt so much better. Over the past year I gained some of the weight back and stopped exercising regularly. I was feeling blah and decided to try the Pre-Holiday DYW Program again to get my head back in the game. It was a slow start with the holidays, but after 6 short weeks of nutritional guidance, personal training and group fitness at Jeni-Fit, I am starting to see good results! I'm thrilled to be exercising again and have been more mindful about my eating. It's great to have momentum going into the new year!"
J.S.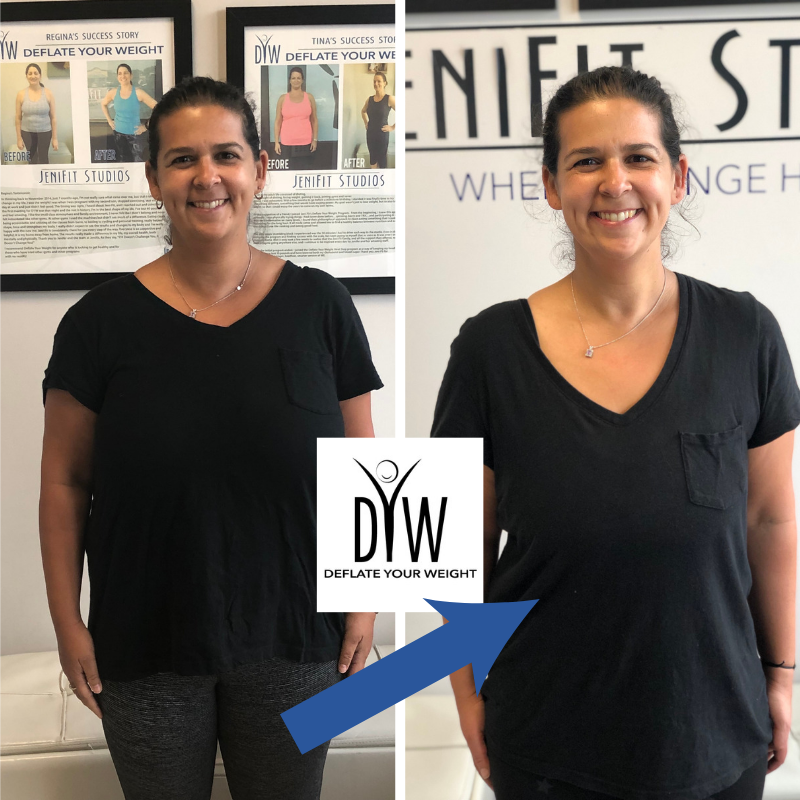 I've been trying to lose "baby weight" for about 10 years.  I had small successes throughout the years but nothing ever stuck.  Less than a year before my daughter's bat mitzvah, I decided to try something different.   I had been thinking about Deflate Your Weight (DYW) at JeniFit for a few months after a friend of mine was super successful in changing her lifestyle, but I was concerned about the commitment.  Finally, I decided to go for it in September.   The variety of classes kept me interested.  I felt supported by Jenifer's team.  Never before have I made exercise a priority in my life.  I have so much more energy and feel great.  I am down 25 pounds to date – I'm so glad I made the commitment. Jessica Handsman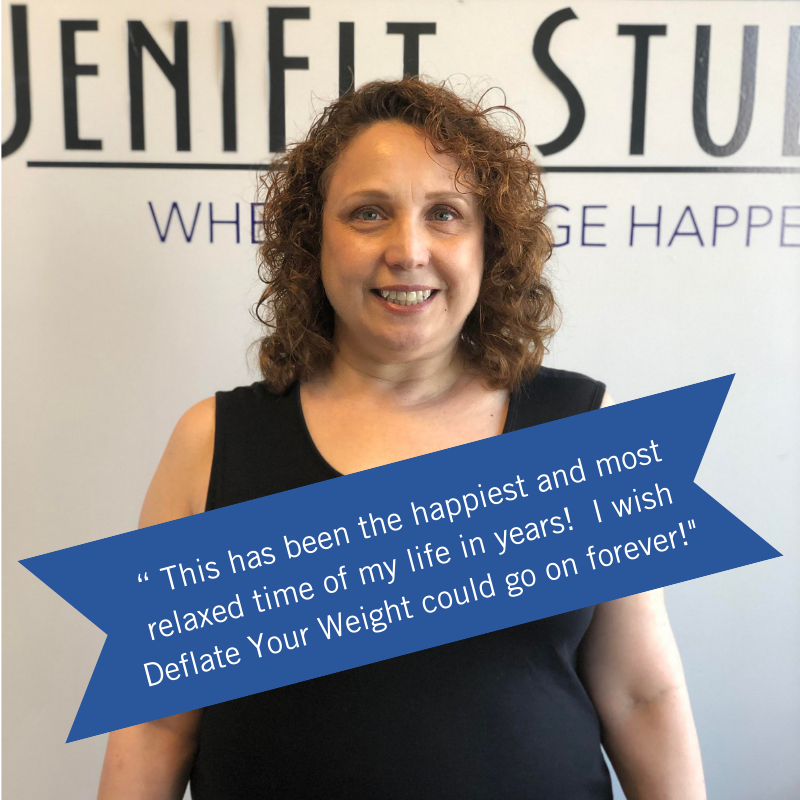 "I was really at rock bottom when I came to JeniFit Studios. My metabolism was sluggish, my weight was astronomical, and my energy was non-existent. Jenifer explained the Deflate Your Weight Program and I joined. I was welcomed with open arms into the Studio by the entire Team. I was introduced to new ideas and reminded about how to eat and exercise in order to reduce my weight and regain my strength inside and out. The exercise classes are challenging yet attainable.Christine Houlihan Ramos taught me Spin and Lance Louison taught me to Box. Mary Goyette Roth teaches an incredible yoga class that relaxes the mind and spirit. The private training sessions were taught by Jenifer Wirtshafter herself.
The nutrition aspect of the plan is my favorite: Mary Goyette Roth(JeniFit Nutritionist) finds fabulous recipes and menu plans to keep our new lifestyle interesting. I have only just begun my new lifestyle journey these seven weeks but honestly it has been the happiest and most relaxed time of my life in years! I wish Deflate Your Weight could go on forever! Fran Ioele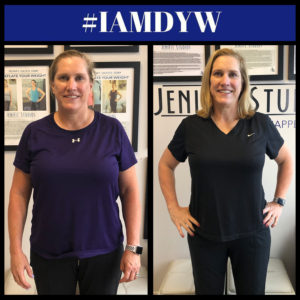 "A series of injuries and surgeries kept me away from exercise for a number of years, and bad eating habits didn't help! I was very unhappy with the way I looked and felt, but worried that I would feel out of place returning to the gym. Just before my birthday, a friend recommended JeniFit Studios & a Deflate Your Weight Program was about to start, so I gave it a shot. From the moment I walked in, Jen made me feel like I was in the right place to change my ways. She threw me into a TRX class that very morning – the hardest class I had ever taken – but I knew I was starting something good. The DYW program is a perfect mix of exercise, personal training, nutritional guidance and group support. It was easy to get back into exercise with the variety of classes, great instructors who are so motivating and supportive and an incredible training partner! I learned to track my eating, make healthier food choices and try foods and recipes I never would have before. I am still on this journey, but I look forward to my morning classes and personal training sessions – I feel so much healthier, stronger and energetic. This was the greatest birthday gift I could have given myself! "
Ann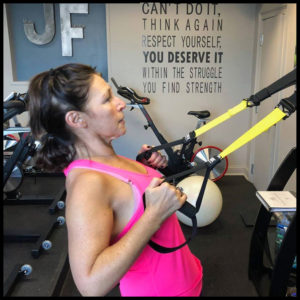 Half way through my 9 week Deflate Your Weight program at JeniFit and feeling successful. 💪
I am so impressed with what a positive impact DYW has on its participants minds and body. Unlike other programs I have followed in the past having centralized nutrition and exercise advice is a difference maker.
Such a well rounded program for life, incorporating healthy, clean eating, supportive and informative meetings, inspirational fitness classes and personalized training.
Looking forward to never stopping!!
Dina L
Mother/Son kettlebell challenge! What a success story. One of our favorite clients Shelly Letto Ozdamar keeping up with her son and keeping up her workout routine after Deflate Your Weight and Deflate Your Weight Next Level. New Deflate Your Weight group starting June 24 – come change your mindset.
Since joining JeniFit Studios, I have become physically stronger and more motivated to try new workouts that I was often intimated by. Through the resources of Jeni-Fit's Deflate Your Weight, I was gives menus and recipes to support my recent decision to go vegetarian. With the help of Jen, her staff, and fellow members I have found a support system to help me push myself and reach my goals!
After my sophomore year of college I found myself overweight, unmotivated, and very unhappy with my health.  Ever since I was 8 years old, I had been swimming competitively and once I stopped in college all those poor eating choices caught up with me. Once I got to college I stopped exercising all together as my motivation to do so decreased.
After winter break of sophomore year I told my mom that I needed to do something for myself to help me make some changes and she suggested DYW. After doing some research and talking to Jen, I joined in May 2017 not really knowing what to expect. Prior to Jeni-Fit I had never consulted with a nutritionist, taken a fitness class, or thought twice about my eating habits–I was in unknown territory.
However, fast forward 4 months and I can say that joining the DYW changed my life, and it was one of the best decisions i have ever made for myself. It changed the way I perceive eating, fitness, and living a healthy lifestyle. I  learned more than I could ever had hoped for surrounded by amazing people who have been nothing but supportive. From the first day I stepped into the studio, to now, I've been greeted by friendly faces full of positive energy and motivation.
Walking into Jeni-fit every day doesn't feel like a tedious and intimidating task like going to the gym has always felt for me, instead it feels like I'm getting one step closer to a healthy life surrounded by the best instructors, nutritionists, and people. I am now down 20 lbs, and although I still have a ways to go, it is because of Jeni-Fit and the DYW Program that I am motivated, confident, and equipped with all the tools to live a healthy life. A year later I am entering my senior year of college feeling completely prepared to continue my journey of living a healthy and happy lifestyle.
Coming from the girl who hated the gym and eating healthy, DYW taught me that anything is possible if you put your mind to it. After losing weight through daily exercising, personal training, and by changing the way I eat, I can honestly say that there is absolutely nothing better than feeling healthy and fit. I couldn't be more thankful for Jeni-Fit and the DYW program and all that they have given me!
Jeni-Fit has become a part of my life that has changed my way of eating and exercising!
Thank you JEN and the whole JF Team
I have been a part of the Jeni-Fit family for almost 2 years now…My first class was boxing.. second class spin… oh boy… spin!! Thought I was going to die… I was so afraid of it but each time I went I fell more and more in love with it.
Now on to Deflate Your Weight… I have accomplished 3 sessions of it… each time learning more and receiving different information with different leaders… the personal training that is part of it helps me to learn the right moves in the correct way…
Jeni-Fit has become a part of my life that has changed my way of eating and exercising!
Thank you JEN and the whole JF Team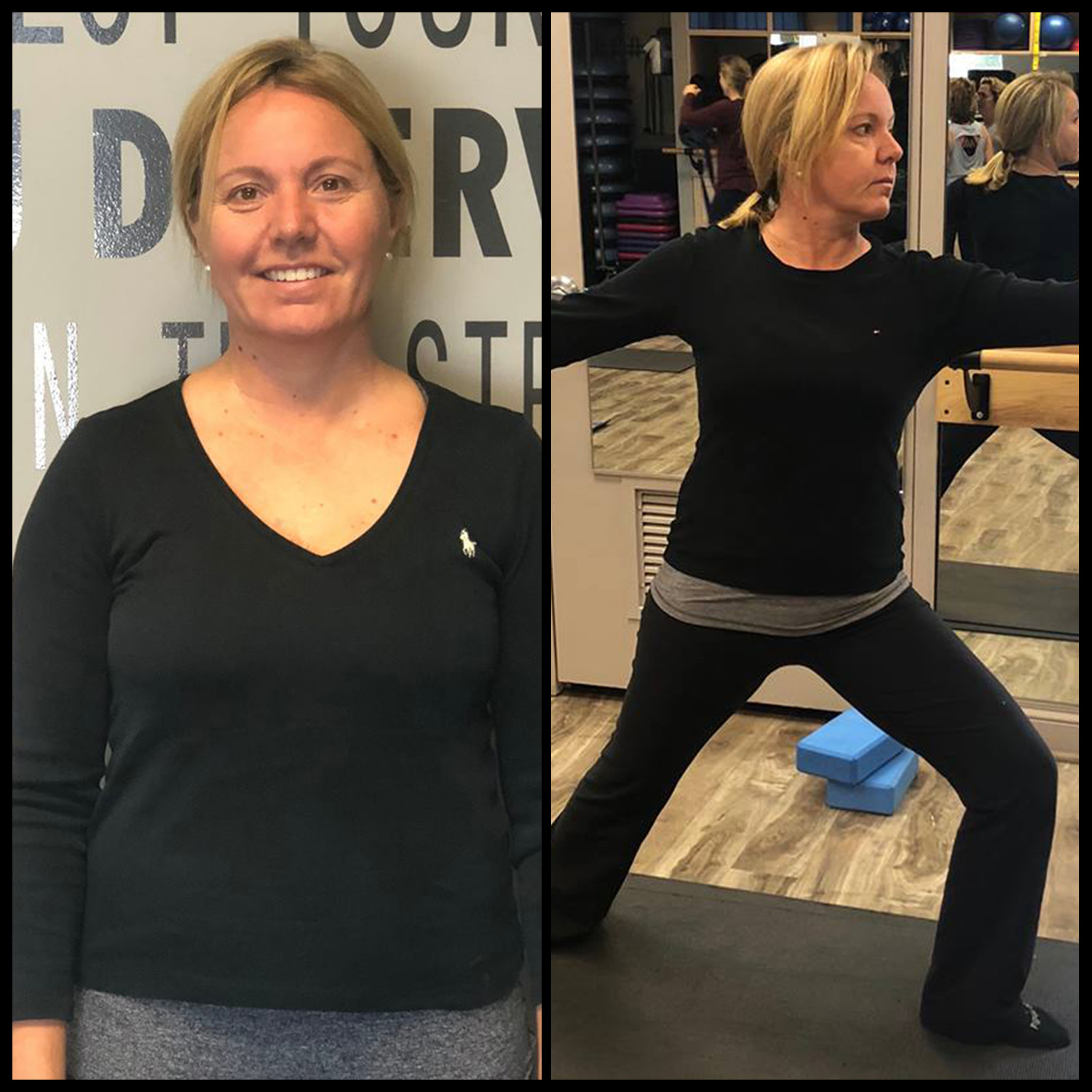 I Woke up one morning, looked in the mirror, and decided I needed to do something about my weight and the way I felt–I honestly had no energy. I texted Jen and she said to come in the next morning to take her barre class. Luckily enough, DYW was kicking off that very same evening. I knew it was my calling. My experience is truly an amazing combination of personal training, toning, weight training, spin, pilates, yoga and nutrition. I've already lost 10 pounds in 5 weeks and still counting! I finally feel energized again! Can't thank Jen-Fit enough for all of her help! Try it, you will be amazed ! Ines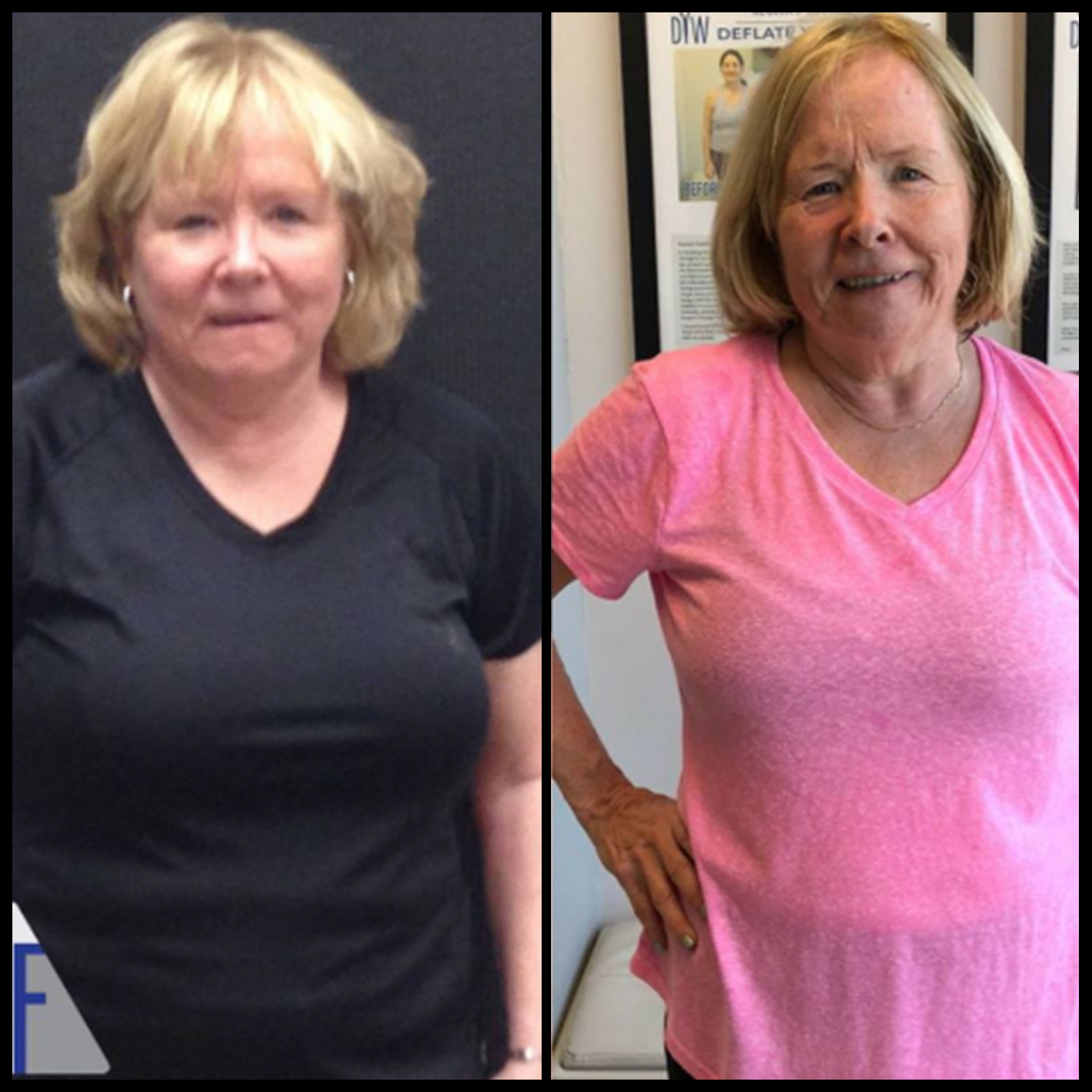 I came to JeniFit to restart my exercise program in 2014. To my surprise, I got WAY more than I was expecting. I met friends, received ongoing support in both classes and personal training sessions, and Deflate Your Weight has helped me make lasting changes to my lifestyle. After being diagnosed with Parkinson's in 2006, my health and exercise have become the most important thing for me and JeniFit continues to benefit me in countless ways.  Kathleen
Deflate Your Weight has been the answer we've been looking for! We both needed to lose weight and update our exercise routine. Doing it together means a lot to us and really keeps us motivated. We have so much fun with every one of JeniFit's classes and feel challenged every day. DYW's nutritional guidance helped us lose a combined 15 pounds in just one month! – Claire & Al
This past January I finally worked up the courage to confront my weight with which I have struggled for years.  I had had enough with not feeling great, squeezing into clothes, not being able to even buy cute outfits, aches and pains, etc.   Also, I wanted to be able to physically keep up with my toddler grandson, but I needed guidance.  And so, when I stumbled upon a poster for Jeni-Fit Deflate Your Weight, I immediately signed up on-line.   The hardest part, truly, was the initial weigh in and finally acknowledging to myself just how out of control things had gotten.  I actually cried.  But almost immediately things began looking up (or down on the scale).  The program is not a "diet".  Instead, the focus is on learning what is good food, being mindful of choices, and, of course, strengthening your body.  One of the best parts was the shopping trip to Trader Joe's.  I was skeptical about it – after all I knew how to buy vegetables- but learned so much on that trip.   I also always felt supported by the entire Jeni-Fit team – from the nutritional guidance to the individual personal training sessions.   I have never been athletic but the instructors were always encouraging and helped me believe that fitness is achievable: even for non athletes.  So, after nine weeks, I had lost just about 20 pounds, was physically stronger, and generally felt better.  I felt better in my clothes as well.  This was the first program that was sustainable for me – probably because it is really not a diet but a way to help understand food and fitness.  And, because I want to continue on this good path, I will be doing the program again starting this week! E.D.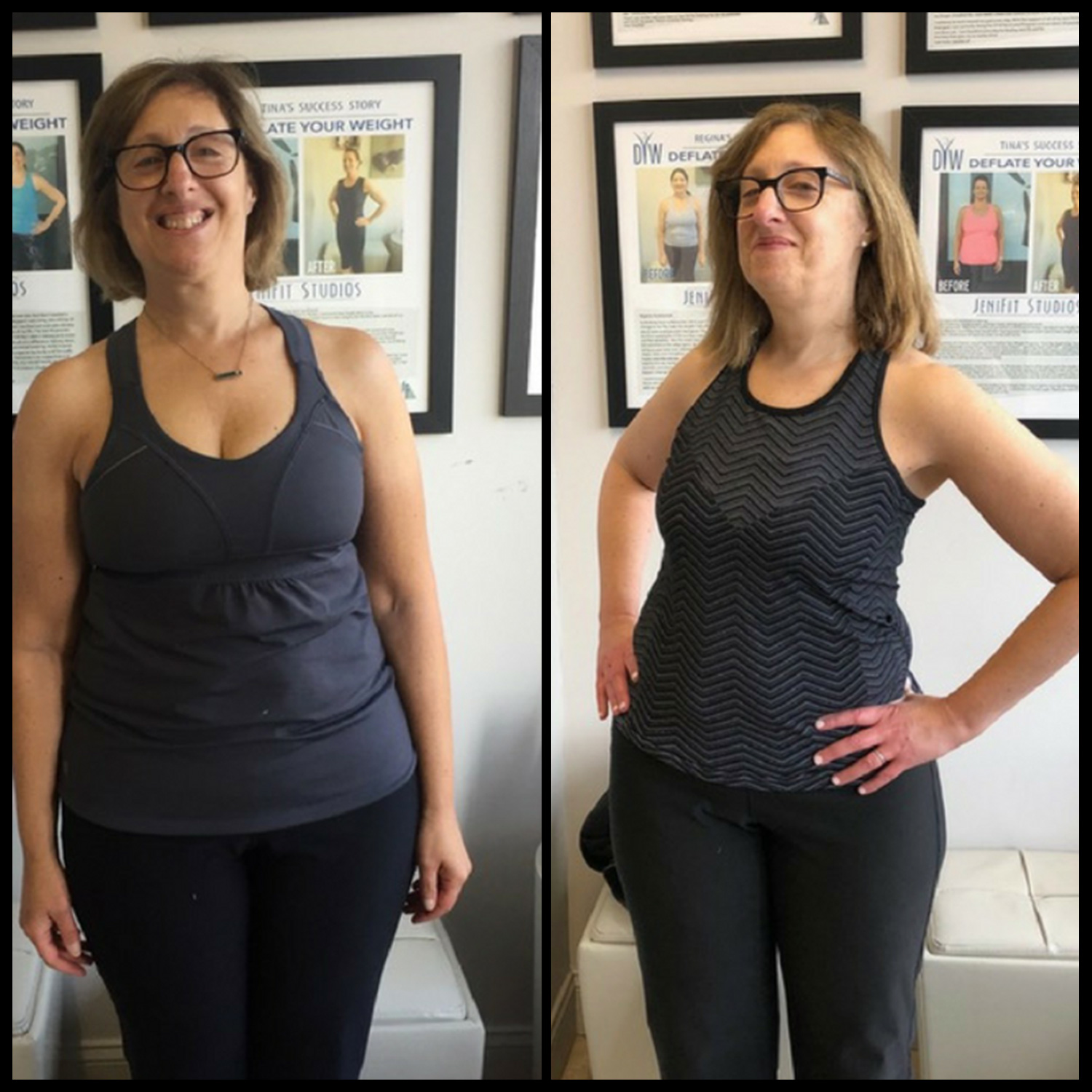 Jeni-Fit has been instrumental in my fitness journey. A special thanks to Jeff Cohen who inspires me with spin classes full of energy and rocking music! Personal training sessions with Jenifer are very motivational. Drinking apple cider vinegar when I wake up and eating my biggest meal at lunchtime has helped my metabolism too– Helene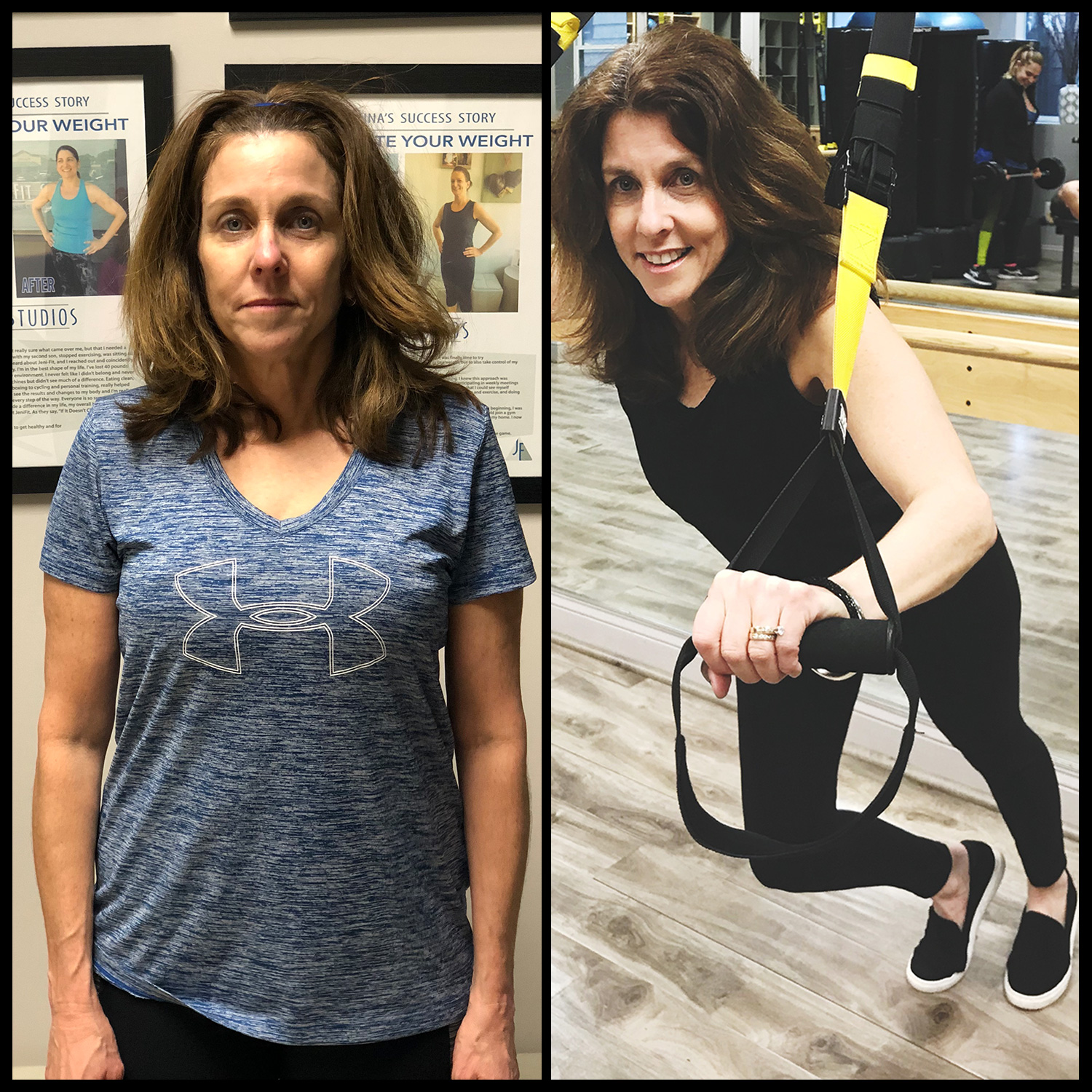 Only 4 weeks into the Jeni-Fit Deflate Your Weight program, I can't believe the noticeable improvement…not only in my body but also how strong and healthy I feel.
The last 5-10 pounds continue to find me no matter how hard I try. However, the DYW Program taught me it's not only about trying hard—but trying hard the RIGHT way! I am learning about the proper combination of training, planning, and food choices that can change your mind and body make-up permanently.
DYW is the perfect combination of trainers, nutritionists, and health coaches that create an individual program with group support that clearly works. It's the knowledge and insight you gain that changes your mind and body and helps your change old habits. It's about educating yourself and making the right choices for you. DYW is a new way of life that benefits my family as well. My husband noticed a change in my lifestyle and now he is even getting healthier. We thought we were eating healthy in the past, but we just didn't know better. Deflate Your Weight is a real eye-opener- Pam Monteagudo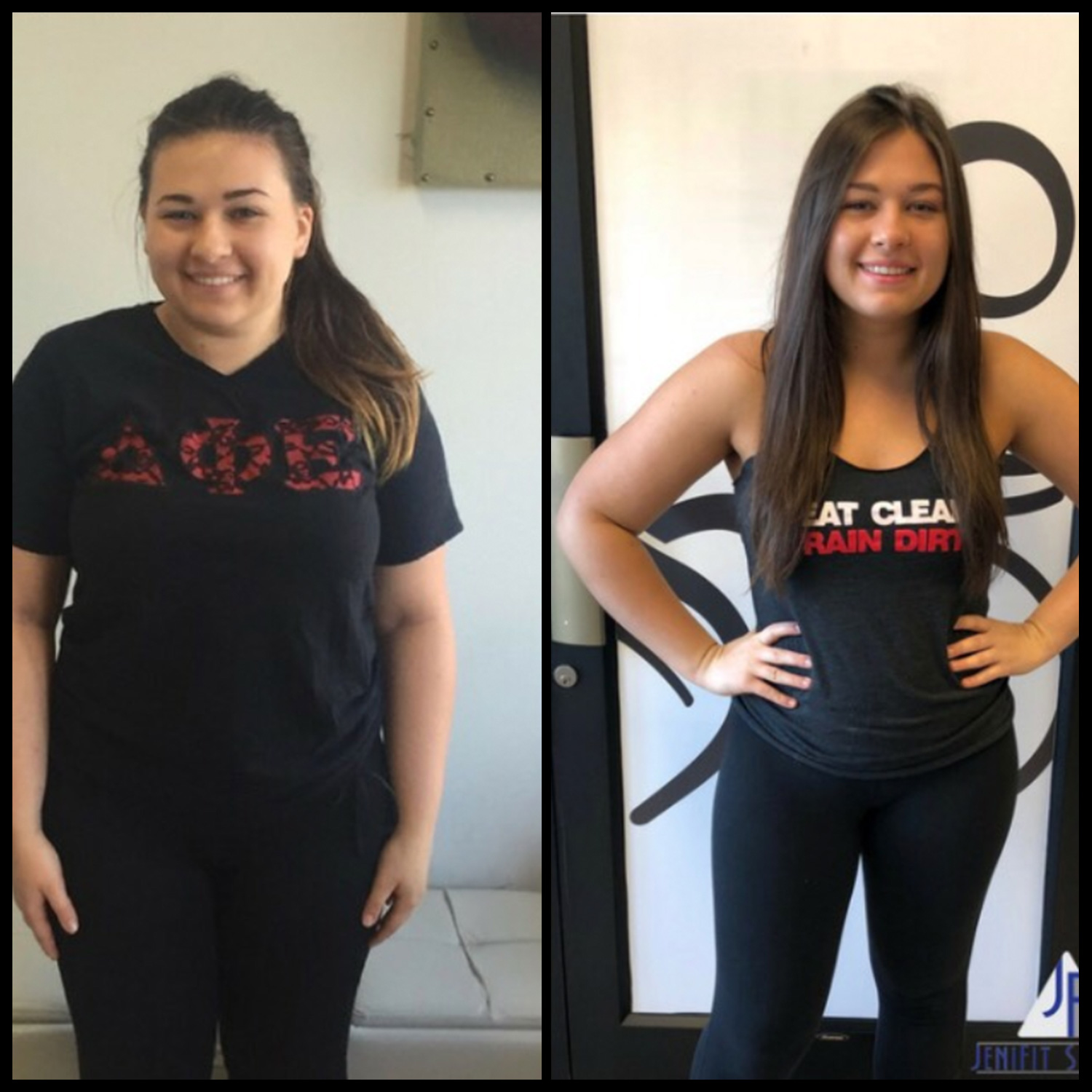 DYW was simply a life changing program for me. It helped me learn to love my body and take care of myself in a positive, healthy way. I have a newfound passion for exercise and fitness, so much that I pursued my own fitness certification as a spin instructor. I'm thankful for this program everyday because its a true testament to the power of mental toughness and self-love. I owe my confidence and healthy lifestyle to Jeni-Fit- Kimmie Siehl
Loosing weight has always been easy for me. Just watch what I ate and run a few miles and it would come off. But then I hit 40 my luck had changed. I've spent the past few years just chasing my weight. Dieting and trying new exercise programs has not worked. With a bad knee my running days were over. Two years ago I found Jeni-Fit. I had been to many classes including spin, barre, TRX and tone, but I still couldn't shake the extra pounds. When Jen talked to me about DYW I couldn't wait to try it. Each nutrition class I went to taught me more about not only weight loss, but how to change my way of eating. Deflate Your Weight has armed me with so many tips on healthy eating that even when I fall off the wagon it's so easy to get back on and start where I left off. Thank you Jeni-Fit for making eating healthy so much easier then it ever was – Karen Cueto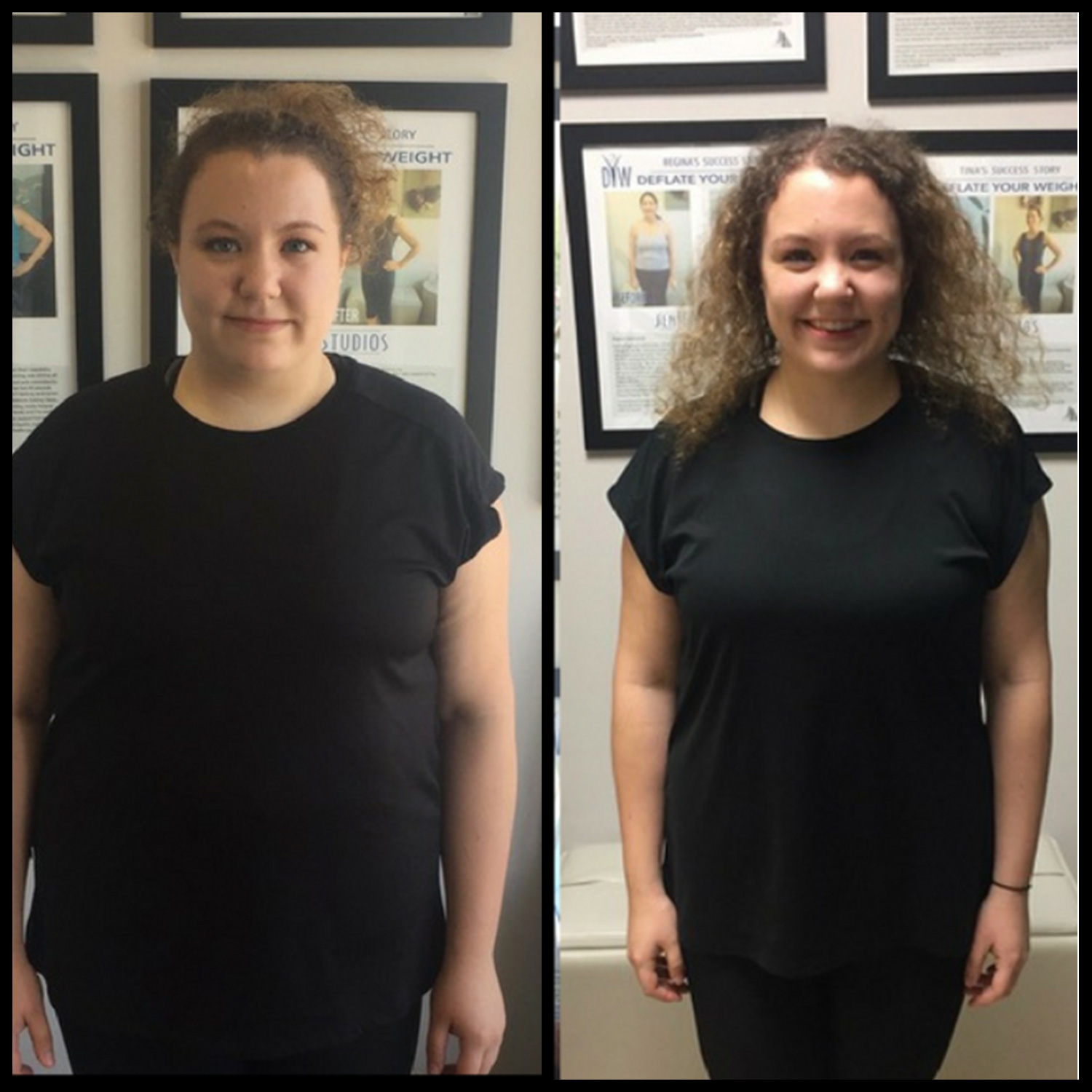 After seeing how much success a couple of friends had with JeniFit and Deflate Your Weight, I knew I had to get involved. With the help of the whole Jenifit Team, I have transformed not only in body but more importantly in mind. At a very important time in my life, DYW has helped me develop a new sense of self and grow so much in such a little amount of time. I now know how to listen to and care for my body in ways I would have never imagined. The JeniFit community has been a constant source of motivation and support to continue to be the best me I can, and I can't thank everyone enough for that! I'm looking forward to seeing how the knowledge and skills I've gained continue to expand and help me along this life-long journey!- Jenn Helm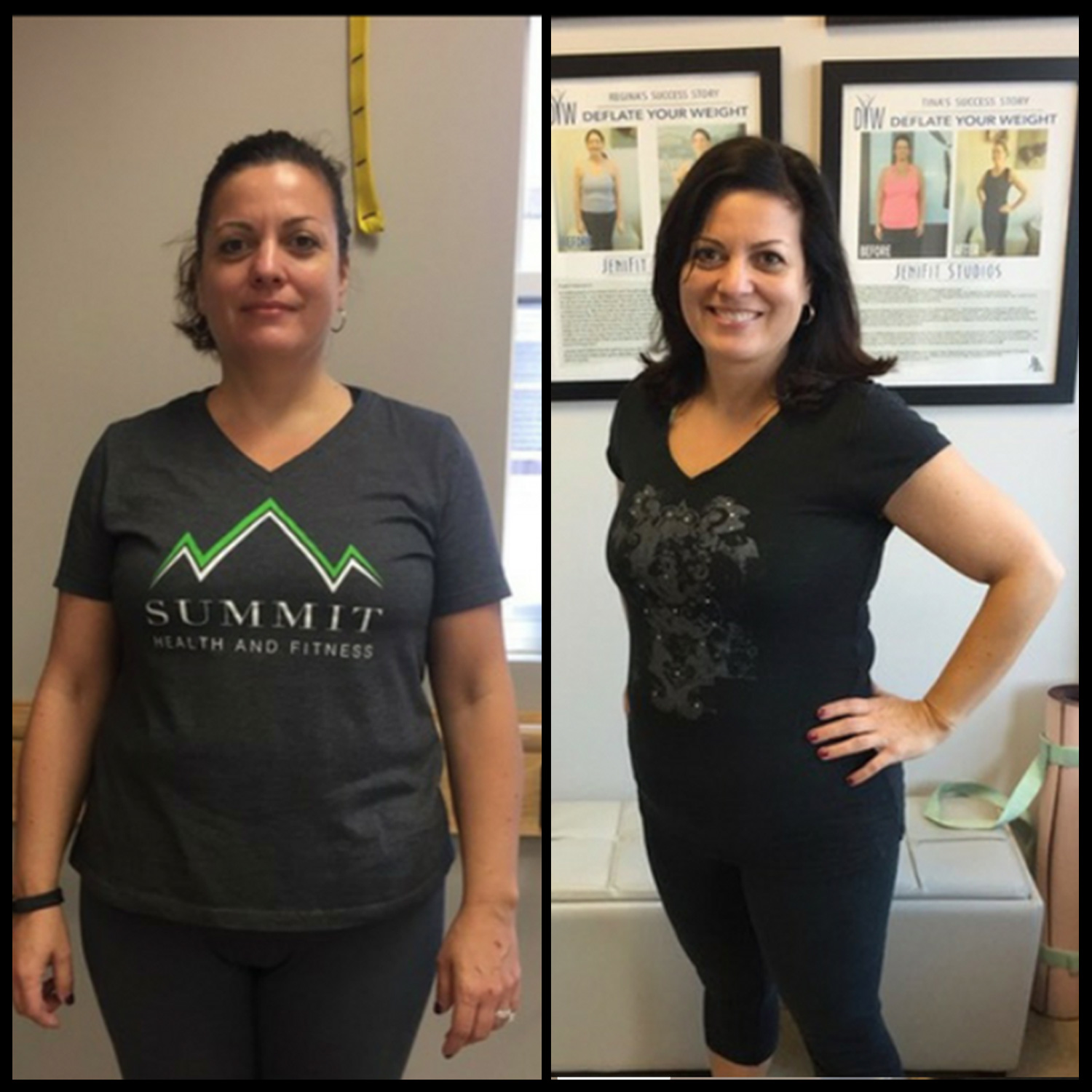 Dyw has helped me to get back on track. The support at the weekly meetings was great. The meal plans were easy to follow and the personal training kept me accountable. The tools I've learned at DYW will help me continue in my fitness journey to reach my ultimate goal.
Erika Toscani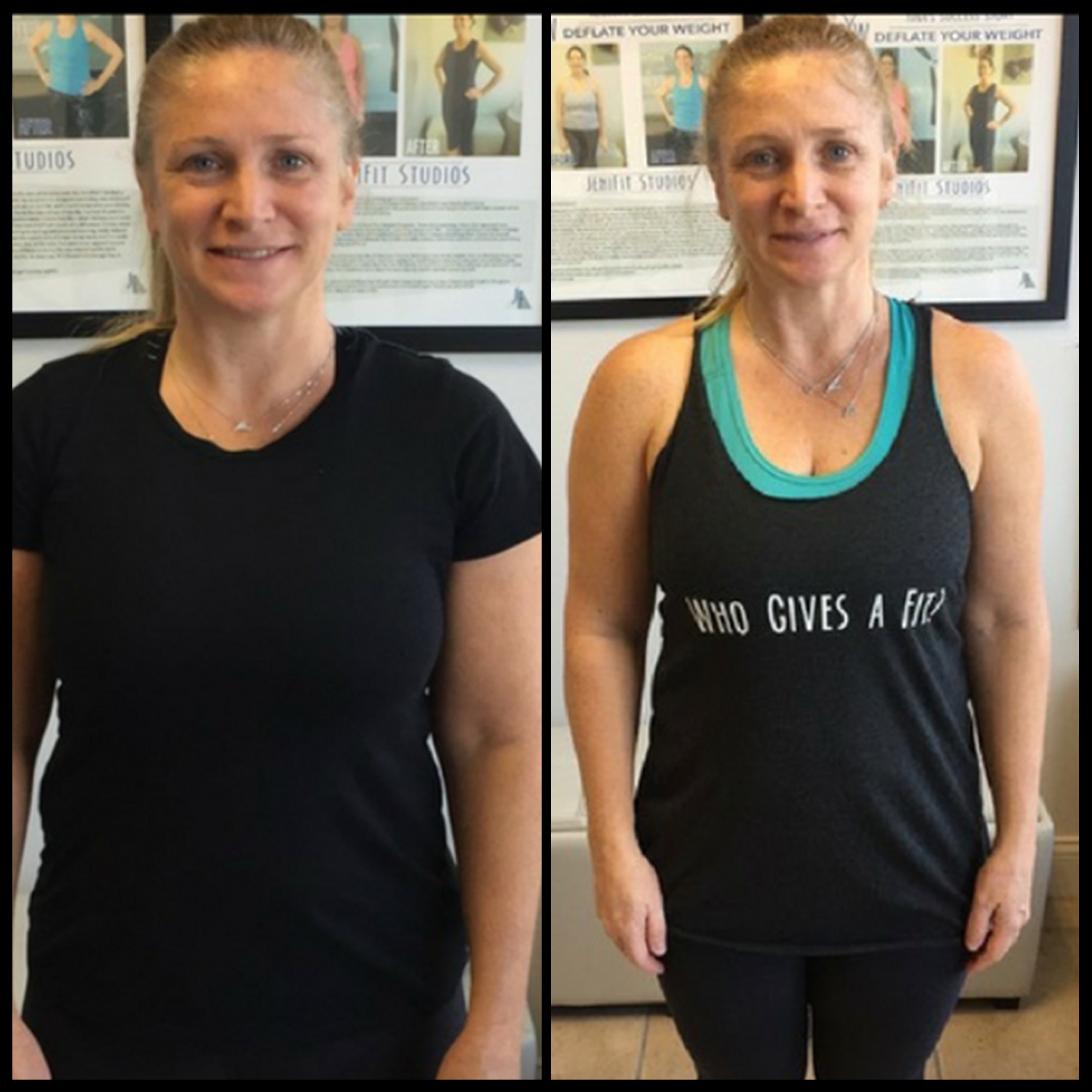 I have been a JF client for 1 1/2 yrs and have enjoyed it right from the beginning. My very first class was Spin with Christine, I wasn't able to get out of the saddle the whole time and didn't think I'd last the 45 min but I did it and felt great! Although I couldn't walk for the next couple of days, for those of you who have spent a whole spin class in the saddle you know what I mean, I knew that I was hooked on JF.
I just recently finished DYW and can't say enough about this program. My main obstacle was/is portion control and this program has helped tremendously with that. I highly recommend getting the portion control containers from Jeni-Fit, they've become a staple in my food prep. The three amigo's, better known as Jenifer, Ann and Cheryl were a great support system during the program. They each had a hand in helping me on this journey and I know I will be able to take their knowledge and advice and have continued success. I have to say that my favorite part was the semi personal training sessions. It gives you the opportunity to try all the classes that JF has to offer. My partner in crime was Janine Abrahamson and she was awesome! Our first training was with Jenifer and she had us each carry a 10lb medicine ball up 3 flights. That 10lb ball represented the 10+ extra pounds I was carrying around with me all the time. I'm happy and proud to say that I'm down 12+ lbs and have finally dropped that ball!
Thanks,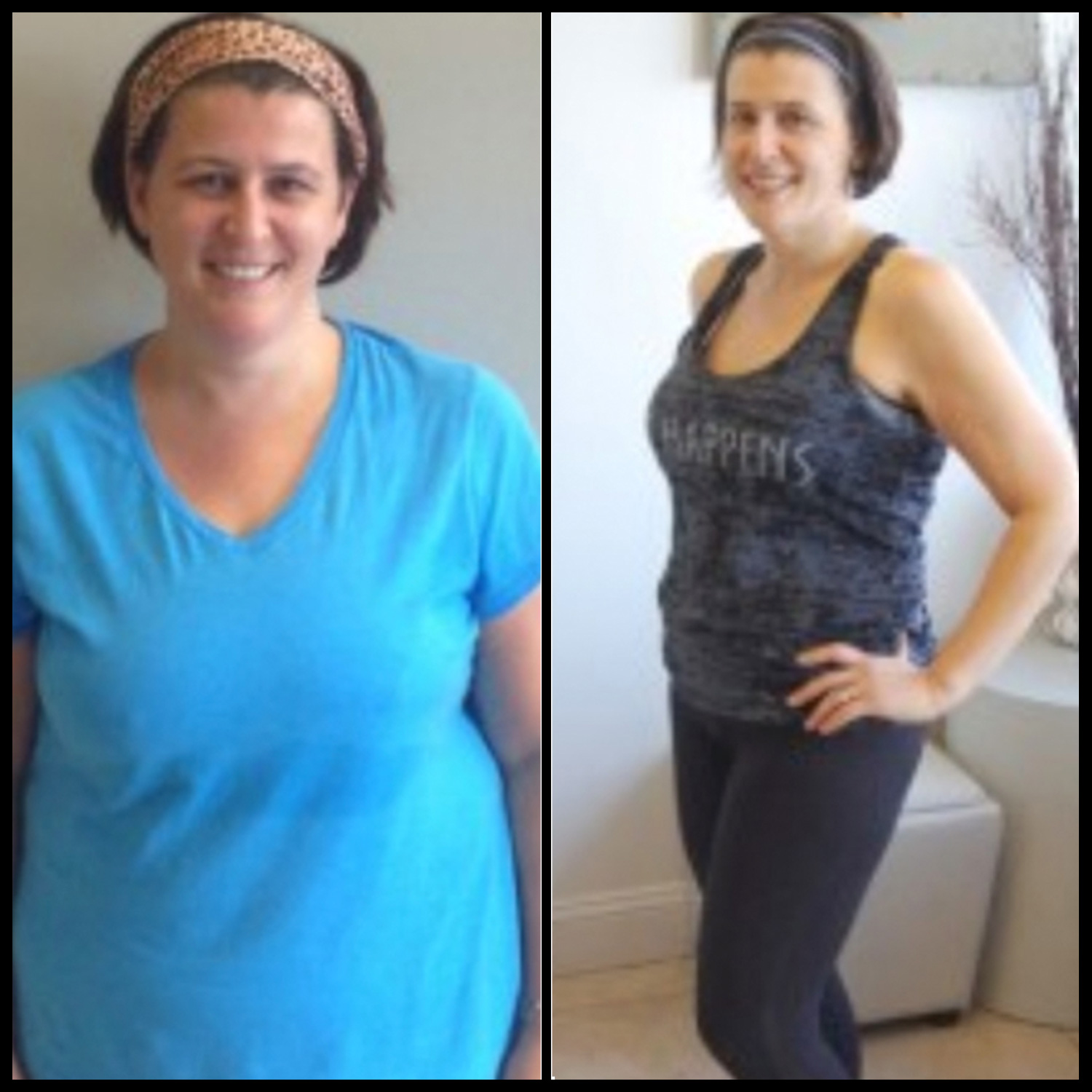 What started out as a suggestion from a good friend to try a spin class at Jeni-Fit has changed into a life changing journey.   I felt so comfortable and accepted at Jeni-Fit that I began to try some of the other classes offered like barre and boxing. I quickly became hooked.  The classes are small and the instructors are very helpful.
I decided to join DYW in September 2014 to lose the baby weight; my baby is 9 years old! After the initial assessment I was nervous that I would not be able to stick with it but that quickly changed because I was given the tools to make better food choices. I started eating "clean", tracking my food, and exercising regularly.  DYW taught me that weight loss is 90% mental and I was ready to make myself a priority. I felt so inspired by Christine's story that I began to think I can DO this!
Jen makes sure that everyone feels comfortable at Jeni-Fit. She takes the time to really listen to what you have to say and helps you achieve your goals. My DYW group was and still is wonderful. There is so much support, encouragement and motivation at Jeni-Fit that you feel like you have become a part of a family, a community of women and men supporting one another to be the best you can be.
After the 9 week program I lost 26 lbs. and felt so good about myself. I continued to exercise regularly and joined a second mini DYW to keep me on track. Not only did I stay on track but I lost another 11 lbs., bringing my total to 37lbs.
To date, I have lost 43lbs and gained my life back. I feel like the "old" me. Christine and Jen continue to support and encourage me along this journey and now it is time for me to pay it forward.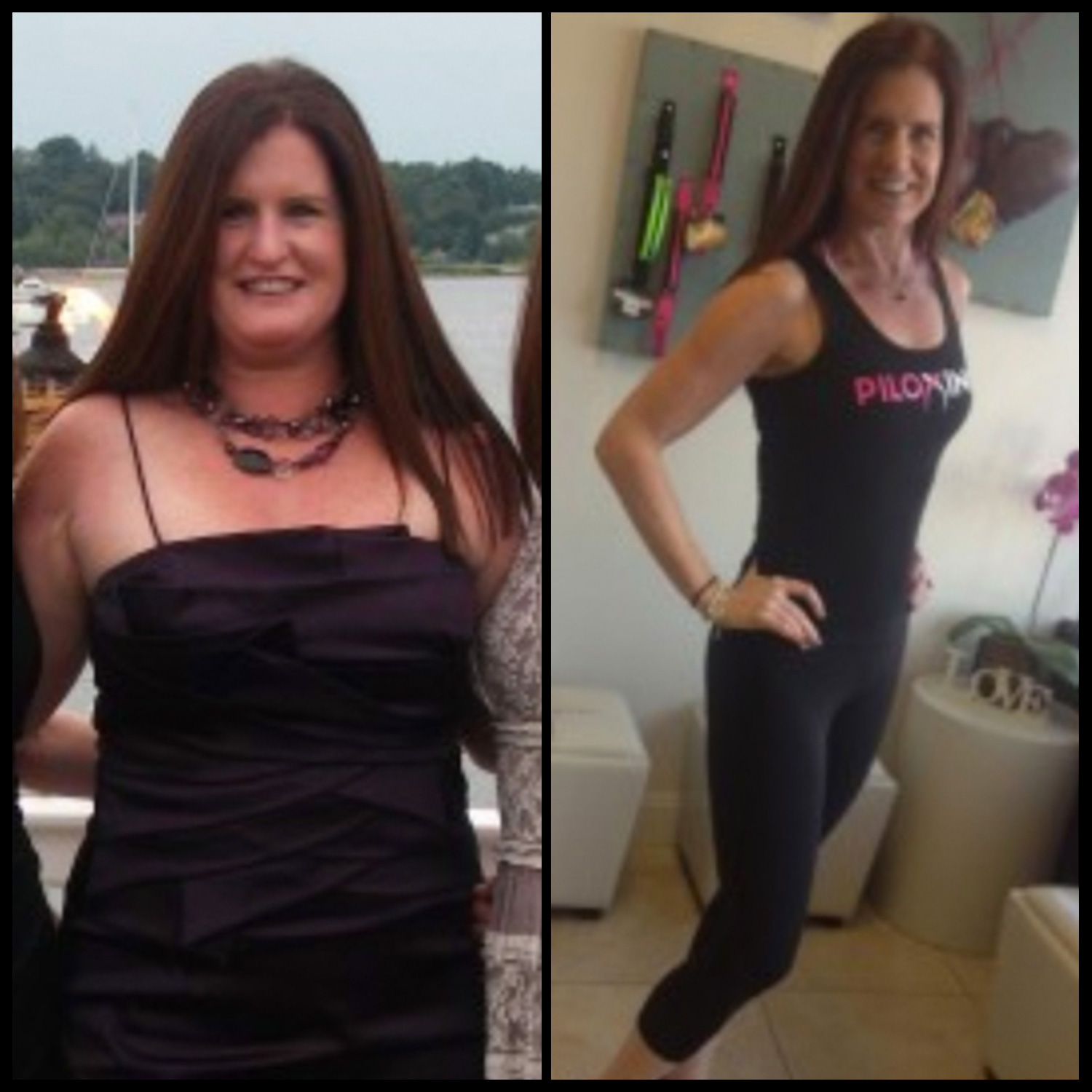 As a long time Jeni-Fit client I decided to participate in the first ever Deflate Your Weight Challenge in September 2012. I was determined to take off unwanted pounds and reclaim my health. The combination of nutritional guidance, exercise and the support of my fellow participates helped me lose 20 pounds in the first six weeks. The program kept me motivated, held me accountable, provided sweat drenching workouts and tracked and celebrated my success along the way. After the challenge I continued to take Jeni-Fit classes regularly, committed to eating "clean" and to date am down a total of 50 pounds. DYW taught me that weight loss is not only physical but also mental. I needed to change my mindset about food, exercise and commitment to myself. I needed to tell myself I can and I did!
What I love about Jeni-Fit is the warm, friendly environment among members and instructors. It is not intimidating which for me was an important factor in getting started and sticking with it. The small class sizes at Jeni-Fit give you the benefits of personal training, but with the encouragement and energy of a group class. Instructors know you by name and provide you with the motivation you need to push yourself further than you would on your own. Jeni-Fit is more than just a gym to me. It's an amazing community of people who support and care about each other. At Jeni-Fit I get to workout, have fun, make friends and most importantly see results.
The biggest compliment I get is when people tell me I am an inspiration. I did this for myself but am in awe of how my journey has helped so many realize that it's never too late to reclaim your life and get fit. With the encouragement of Jenifer and my friends at Jeni-Fit I decided to get certified and share my passion. I am currently certified in Indoor Cycling, Piloxing and trained in the Jeni-Barre Method. I believe that fitness classes should be motivating, challenging but most of all fun. As I like to say, "I want you leaving with a smile but feeling like I kicked your butt!"
Thank you Jenifer and your team at Jeni-Fit for helping me see my potential and reach my goals. There's no better feeling than Healthy!
Christine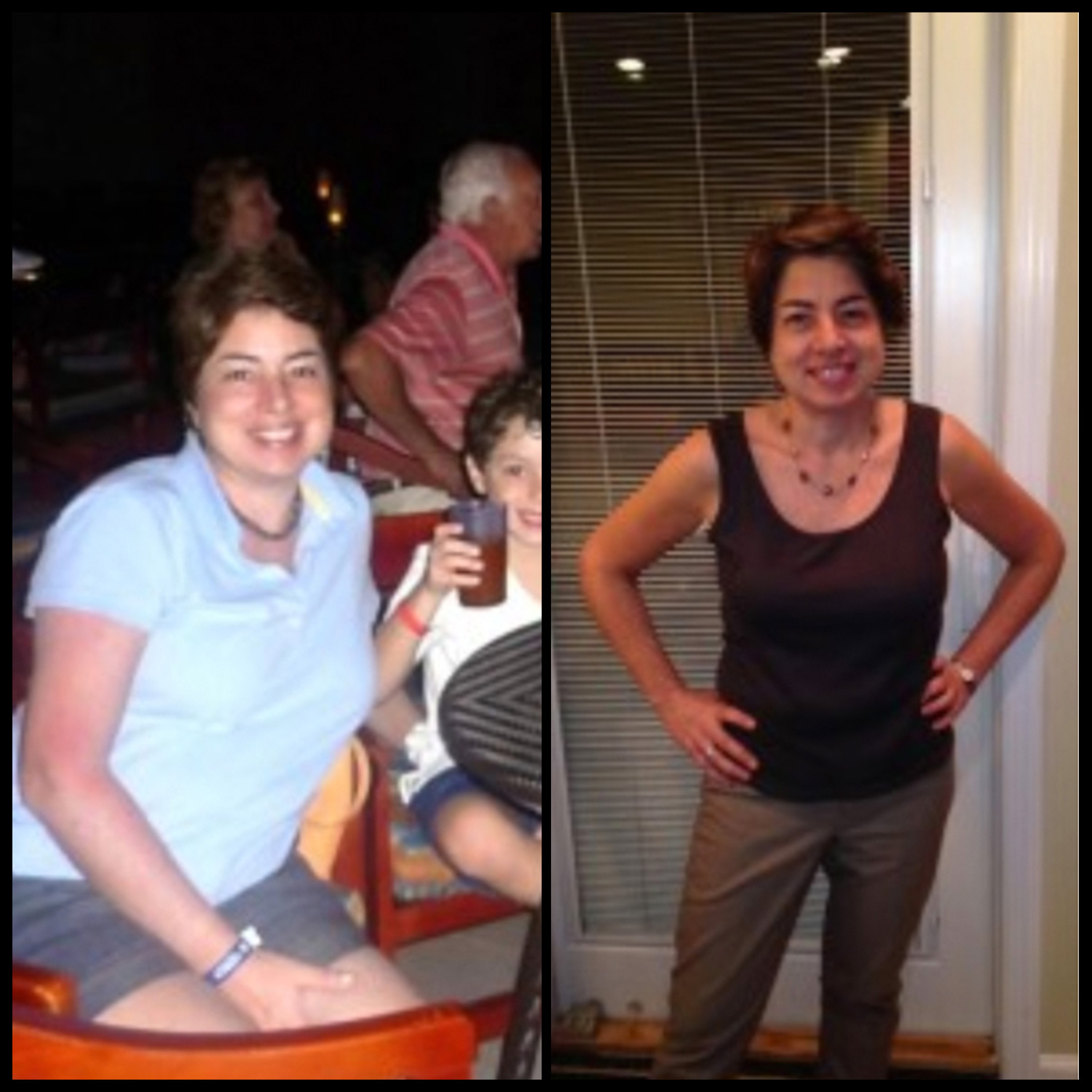 As one of your "original" Jeni-Fit clients, I've been enjoying your indoor and outdoor classes. Last year, however, I decided to "Make Change Happen" for myself and did your Deflate Your Weight program. As a working Mom who hates to cook, I thought it would be too hard to get any real results, but the combination of nutrition and fitness classes were very manageable and provided the tools I needed to finally lose weight and get healthy.
I lost 13.5 pounds during Deflate Your Weight and a total of 20 pounds since I started. Remarkably, I've gone down THREE pants sizes! I got to buy myself a whole new wardrobe!
Better than that, however, I've made lasting changes to live a healthier life.
I feel better and stronger than I have in a long time. Your variety of classes keeps me coming back (Zumba is my new favorite) and your personal touch and attention helps me stay motivated and on track to keep the weight off.
Thank you for your support and encouragement and for helping me to finally meet my weight loss goals!
Joann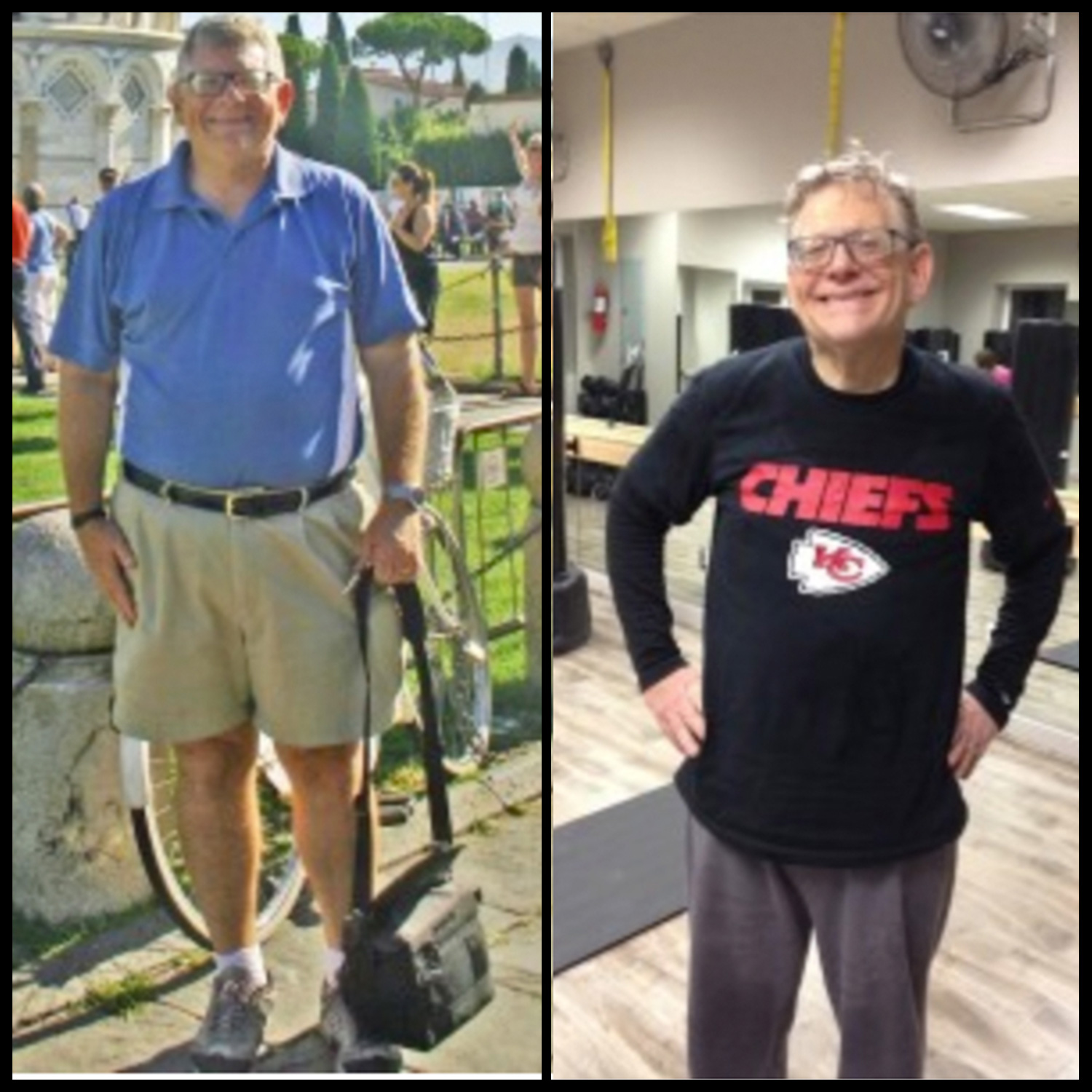 I know I needed to do something about my weight and my fitness level. I hated treadmills and did not have the discipline to drag myself to the gym. When I saw an online ad for a boxing class, I decided to try it.
I was looking for exercise that was not boring or repetitive. When I started, I could not keep up with the other participants. All the trainers took the time to make sure the programs met my exercise level. I always felt like I got personal attention in a group environment and for group rates.
As my weight came down and my endurance increases, the classes remain challenging. All the instructors are fun and enthusiastic without being intimidating.
Both the boxing and the spinning are great workouts but also great fun. I enjoy it so much that I actually look forward to a 5:45 AM class.
Even though most of my fellow participants are women, as a man I am continually engaged but also entirely comfortable.
I have now been attending classes for over 15 months. I have lost over 45 pounds and my cholesterol level has dropped from 207 to 169.
I am a true believer that change can happen!
John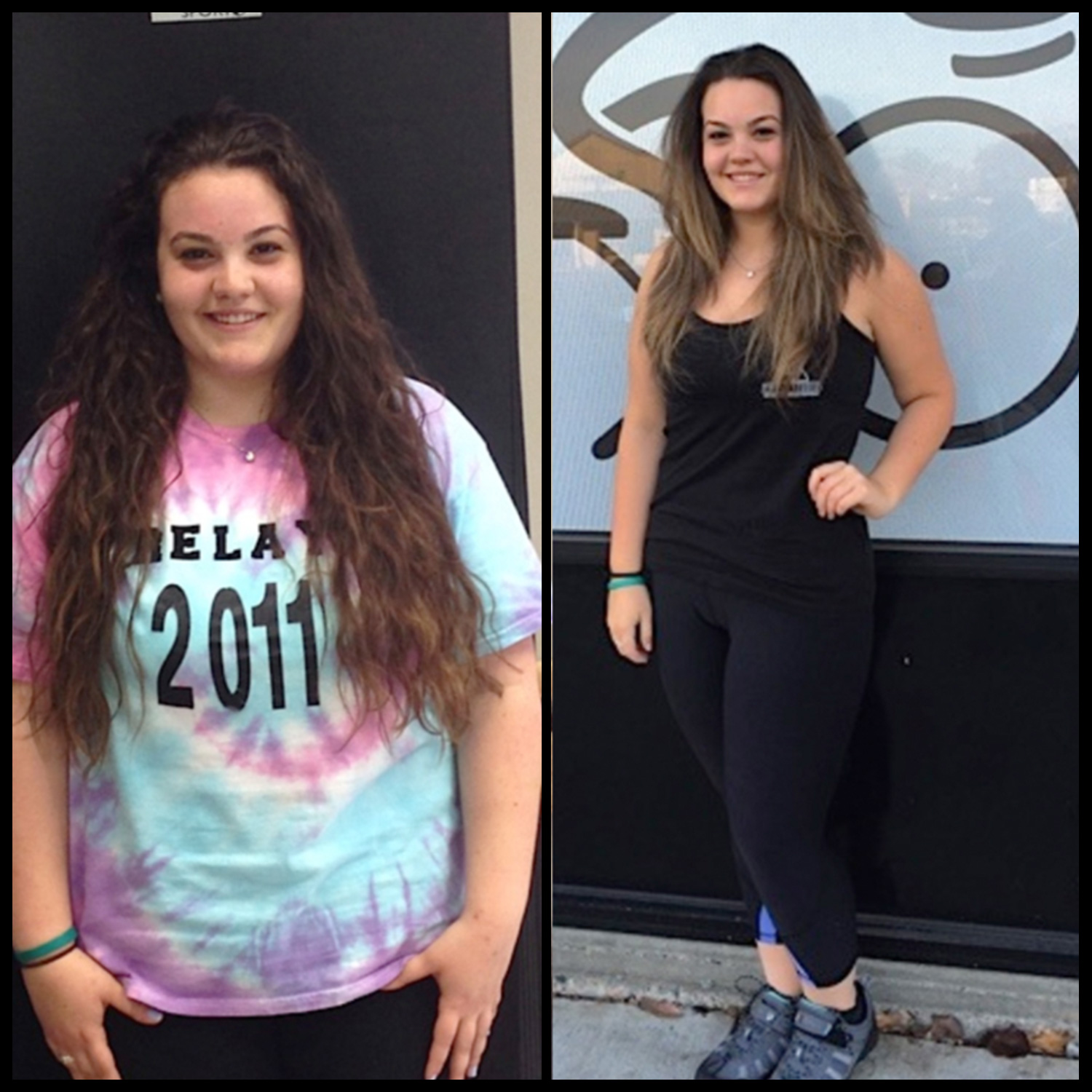 Like almost everyone at every age, I had a desire to lose weight and put my physical fitness in my own hands. At 19 and a college student, I figured there was no better time to start than now. With the help of a very special aunt of mine, she introduced me to Jeni-Fit's Deflate your Weight program and motivated me to start my journey.
At first I was nervous and feeling a bit out of place as one of the youngest people I saw in the gym and in the program, but within that same week of the beginning of the program, those feelings quickly evaporated. The Jeni-Fit family, (yes you quickly learn it is a family,) are the most motivational, supporting, and loving people you can find. That was a HUGE impact on my success. I was overwhelmed by inspiration and encouragement to keep going and push harder to reach my goal.
It's evident that the Deflate Your Weight program changed my life. In the nine weeks of the program, I lost 30 pounds and three months after completing the program lost a total of 50 pounds. But I don't like to focus on what I lost, it's rather what I gained. I gained self confidence, happiness, motivation, and most importantly a new healthy lifestyle.
If you can't already tell by all the other success stories, Jeni-Fit provides you with all the resources you need to find results. Never at 19 would I have thought that what I would look forward to most when coming home from school is going to Jeni-Fit. I still have more I look to fulfill and I'm still on my journey, but I can say with full confidence that it's been the best and most accomplishing thing I've done in my life thus far.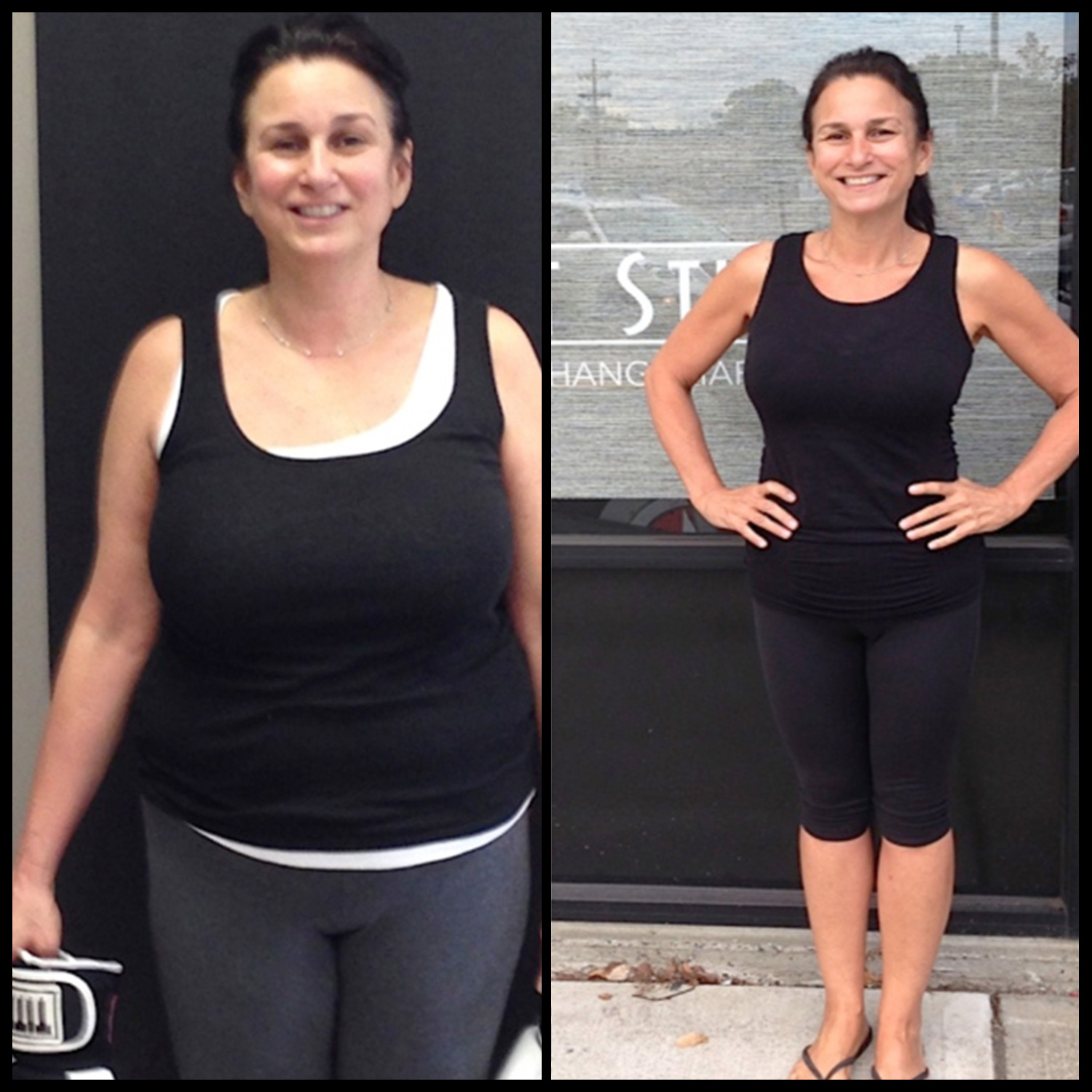 I joined Jeni-Fit not with the intention of losing weight, but to become stronger, healthier and fit. Losing weight was a bonus!! At Jeni-Fit I started with the "DYW – Deflate Your Weight" program. I learned to shop for food, which lead to eating better. I learned to exercise the right way so I didn't get injured. The large  variety of classes  kept me motivated and never bored. As Jenifer would say my eating became "mindful" and I "gave it my all" while I was exercising, I didn't quit! Living right has become a way of life. I'm taking care of myself to stay a better me. Thanks, Jenifer. I truly could not have done it without you and your studio. xoxo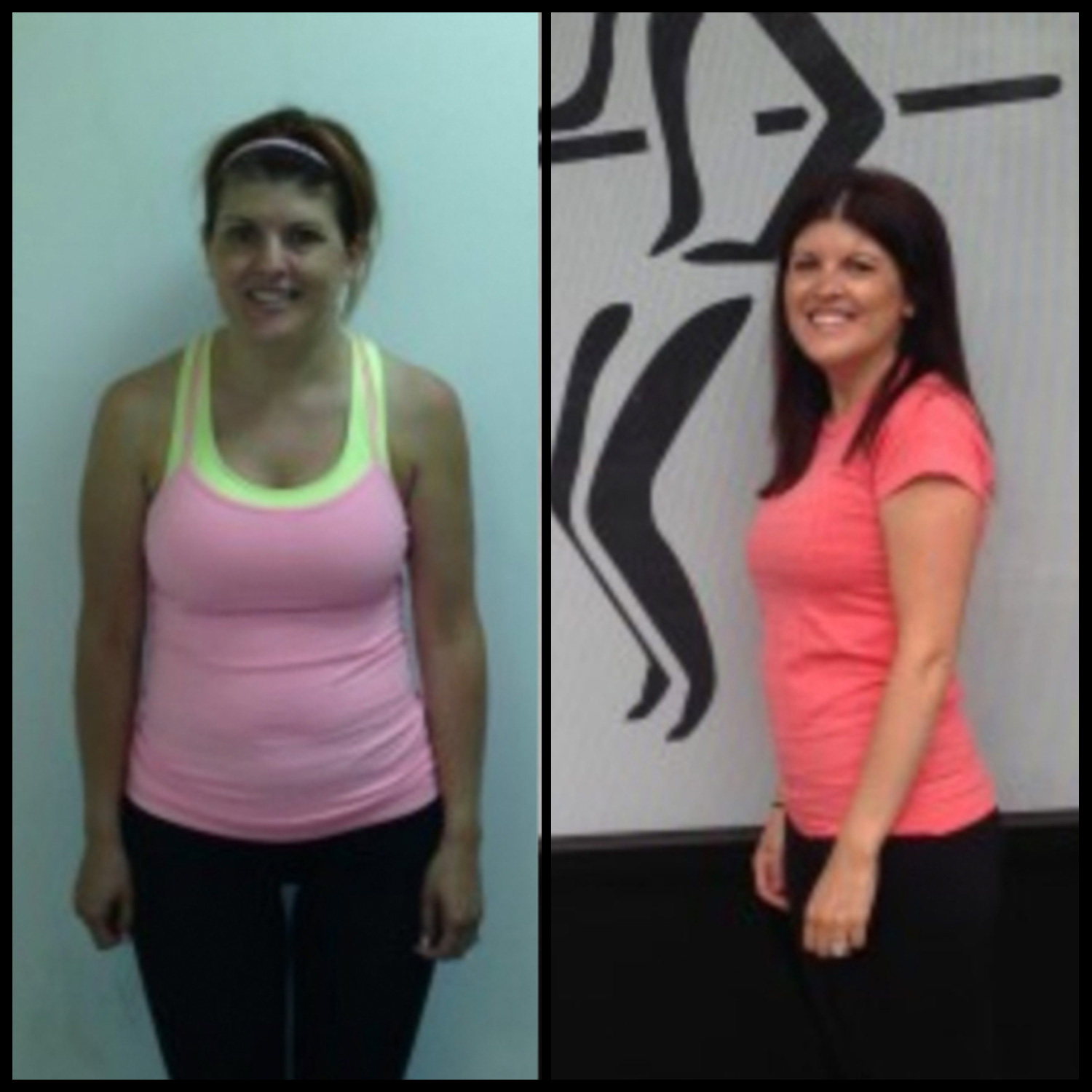 Alicia lost 30 pounds during Deflate Your Weight (DYW)!
Not only does she look great and feel great, she has gained
invaluable energy to be able to keep up with her 8 year old twins!
We are so proud of Alicia and her upbeat attitude and commitment
to lasting change! Great job!