Journey-Fit: 
Your total fitness, culinary and mind-body travel experience

designed to provide you with active

adventures combining fitness, reflection, and farm to table dining. 
W

hat a way to see this great world!
Travel actively with Live Journey Fit!
You Just Show Up And We Do The Rest!
Join us for a life-enhancing experience you'll never forget.
You will feel challenged, empowered, inspired and restored!
Interested in a private group?
Let us plan your next event!
1, 2 or 3-day options available.
Specializing in family reunions, corporate team building, athletic team building days (staff or players) birthday parties, anniversary parties, girls day away and more!
Options are endless.
Contact us today with a date and we do the rest.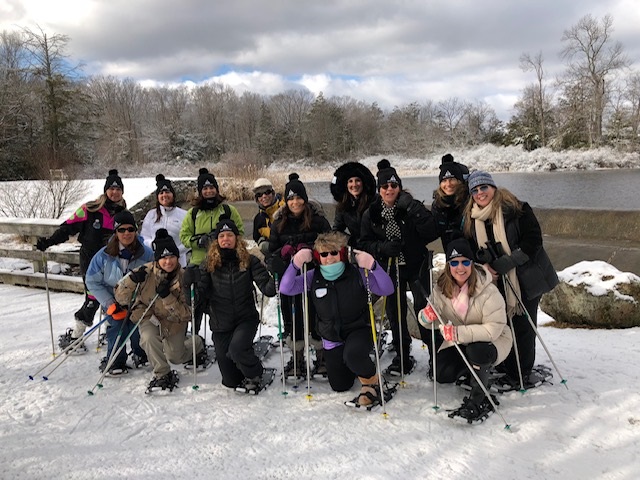 Recent Adventures
New Hope, PA
Lambertville, NJ
Vernon, NJ
Warwick, NY
Goshen, NY
New Paltz, NY
---

Upcoming Trips
---
---
Open to all adventure seekers:
Join Us For The First Mini Adventure 
Adventure, mindfulness + healthy eating all before school pick up!

 
Trip includes guided exploration through The Watchung Mountains (Snow shoeing or pole hiking depending on weather) 3-course cooking class and wine pairing with Chef Daniel Rosati, mindfulness program and walking meditation in nature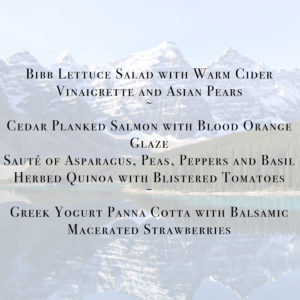 ---
Open to all adventure seekers:
Departure out of Westfield, NJ
Trip includes cramponing/pole hiking (crampons are a traction device that is attached to footwear to improve mobility on snow and ice during pole hiking) hands-on cooking class, yoga, snowshoeing, meals, wine, snacks and transportation out of Westfield all included
---
Options are endless.
Contact us today with a date and we do the rest. 
Hear From Past Participants from the last year of adventures!
10

Great Trips and Counting!
Cynthia Bailey Landis: What a wonderful way to kick off mother's day weekend!  Can't believe it was only a day – really felt like a mini-vacation, packed with fun, healthy, feel-good activities from the hike along the rocks and waterfall to the vegetarian middle eastern feast to yoga outside in the vineyard, all wrapped up with wine-tasting at the end. Everything was flawlessly planned and organized – and all I had to bring was my hat! What a treat! Wasn't sure initially about going by myself but what an open, interesting and fun group of women to enjoy a beautiful day with! Was a day filled with laughter and feeling good about myself, my new friends and the beautiful world around us.
Kevin Buckley: Great day trip into the mountains with Journey Fit. All activities were perfectly organized, from the vigorous 6 mile hike in glorious sunshine to the fabulous outdoor lunch washed down with locally brewed beer. Just in case we were still thirsty we followed up with a visit to a local distillery, tasting the best bourbon this side of Tennessee. The setting for the afternoon activity was a beautiful 19th century barn where I thoroughly enjoyed my very first yoga class. By now fully relaxed and happy we moved on to the final activity which believe it or not was painting with tropical spices! The wonderful local Hudson Valley wine served by our exotic instructor helped me discover my inner Rembrandt. A perfect end to a perfect day.
Adam and Joann Pass: Our journey fit experience was superlative. It was so well thought out and executed. We were able to meet some great people whose paths we might not have crossed otherwise. The hike was challenging without being too much. And the lunch and all that followed were beyond our expectations. Highly recommend to others.
Cathy T: It was just what the doctor ordered.  I certainly came out of my comfort zone and definitely reached new heights.  Thanks for a glorious day, ladies.  I enjoyed every second of it!
Dana: Adrenaline lasting from our days together. Reflecting on ALL of the amazning experiences we shared. I'm in love with what we shared, learned and lived.  Thank you Jen and Tara, xoxo
Fredda: Shout out to Jenifer Wirtshafter and Tara Jablonski for exercising our mind, body and soul for 3 wonderful days. Did some things that I'm completely comfortable with, like cooking and hiking.  More importantly, did some things I've never done before, like aerial yoga, meditating, milking a cow, and snow-shoeing.  Try Journey-Fit – you will love it! I'm definitely going on their spring trip to Buck's County.
Lisa B: Nothing can be better when you get a group of like-minded individuals together to share a few days away to retreat, breathe in all of the wonders of the outdoors, and be a part of new experiences, whether it be a gastronomic feast or testing your physical limits. This can only be accomplished when you have a leadership team that is organized, considerate of every individual's needs, and, in itself, is interested in your goals and achievements.  Journey-fit, a division of Jeni-Fit, provided that and so much more in their Winter Journey-Fit trip to upstate New York. Having new experiences such as snowshoeing, and yoga trapeze, mingled with familiar passions such as cooking and hiking, all with a wonderful group of fun-loving, interesting women made this a great experience. Highly recommend – Lisa Berkower, Westfield, New Jersey
Pam: Can not say enough about this awesome trip! Everything was just perfect from the lodging, transportation, the hikes, snow shoeing, the food, visit to a distillery, dairy farm and cider farm, guided meditation, and much more! It was evident the careful planning that went into every aspect of the trip. Loved getting to know this amazing group of women. The thanks goes to our outstanding leaders.  The joy sure is in the journey:) I will definitely go on future trips and cant wait for our reunion #journey-fitwinter17
Ilene: I have not stopped thinking about & talking about our wonderful trip! It was truly one of the most inspiring & wonderful experiences I've ever been lucky enough to be a part of! When Beth & I decided to go on Journey-Fit we knew no one at all& had no idea what we were in for! We decided to step out of our box a little.  And I'm so glad we did because we were so warmly welcomed & by the end of the 3 days we all shared together, we felt like we were all old friends! What an awesome group of girls! And Jenifer & Tara….what can I say, except you 2 are the best! There was no stone unturned. Every aspect of our journey was well planned, well thought out & just perfect! It touched my mind, body & soul (as well as my passion for food & wine) It was an experience that will bring a smile to my face and heart forever! Plus those hikes really humbled me! I though we were in awesome shape until we climbed stairway to heaven! Guess we have to work out harder, lol! Looking forward to being a part of another journey-fit again in the future! It was truly a very special experience! Love to all. Ielene
Beth: Thanks to all for making our first Journey-Fit such an amazing adventure. You made us feel so welcome. Jen and Tara you are great, xo!
Laura M: Truly a five star journey! Journey-Fit was more than I ever imagined it to be. I chose to go on the trip to experience something new and refreshing, not to mention, a desire for some well deserved time away from my normal routine. Every aspect of the trip was well thought-out, and cleverly planned, thanks to Jenifer and Tara. From the healthy meals and snacks, awesome fitness/wellness classes, community supplied agricultural education, and breathtaking views, it was nurturing for my mind, body, and soul. Enjoying the company of workout buddies, and parting as "friends" was priceless. I anxiously await the announcement of where the journey will take us next. Count me in!!
Kingsley: Journey-Fit was beyond expectations. Thanks to all of you for making it a fantastic experience. I already recruited someone for the next trip – she's suffering from Journey-Fit envy!
Joann: I want to thank Jen, Tara and all of you again for such a great trip.  It really went off without a hitch! As I was telling my husband all the things we did, I cant believe how much we did in 3 days—bike ride with a tour of a colonial garden and museum, winery tour, painting (Ok I'll even admit I didn't mind the painting), wine tasting, wonderful dinner – and that's just day one…wonderful breakfasts, organized farming, hiking, pole dancing, cooking class and dinner, yoga, kayaking and then a final lunch in  a great quaint cafe!  Its really amazing a testament to the hard work and thought Jen and Tara put into it.  Thanks again!
Corinne S: What an unbelievable trip and an unbelievable group of ladies!  I loved spending time with all of you.  Thank you Jenifer and Tara for organizing such a wonderful experience.  Hope to see you everyone soon. Xo, Corinne.
Dana L: The experience and memories are fabulous. I am in awe of what you pulled together. So thankful for the experience and love the group dynamic. This was a beautiful trip…thank you for all that you did to make it special.  Loved meeting everyone! Xo, Dana
Cyndi: I had so much fun!  You are all an incredible group and I can't imagine doing this trip with anyone else!  You were all fantastic and thank you to Jeni and Tara!!
Cyndi: I am so happy to be part of this group. I have been thinking about all of you since I got home last week and I have to tell you all that you are all amazing. This was honestly the first time in my life that I was with a group of women that were so kind and non-judgmental. I have been raving about the trip non stop. I was surprised at myself when my husband asked if I would go again and without a seconds thought I answered "In a heart beat!" What a wonderful experience I had and I have all of you to thank for it, but mostly Jen and Tara and Laura for inviting me!!!!
Cathy: Thank you all for the opportunity to do the three of the things I love eat, drink and meditate – and with the amazing women – hats off to Jen and Tara for an inspiring experience!!
Cindy B: My experience with Journey fit was wonderful. I experienced activities that I truly enjoyed and focused on myself. It was relaxing to be away from the daily grind of life and just live in the moment with no distractions. It helped me realize that I need to take time to care for myself and do things that I enjoy. I returned to my home energized and renewed.
Carole D: When I saw the details about the Journey-fit trip it immediately sparked my interest. The trip was including all kinds of things that I would love to try out but would never do it on my own. Outdoor bike riding, hiking, yoga, kayaking, farming, wine tour. Indoor painting class, wine tasting, farm to table dinner, getting to know new and empowering women. So I signed up! I am fairly new to the Jeni-Fit family and it was a real challenge for me to take on this trip, socially, physically and emotionally.
I recently lost my father and have been taking care of my mother, my family, my grandson, and continuing to work several part time jobs. I needed to focus on me, my health and my feelings. Journey-fit became my personal challenge. I went in there with a positive attitude (Jenifer and Tara would settle for nothing less) and it paid off. I met a wonderful group of caring, kind, women. Jenifer and Tara could not have been more accommodating, inspirational and just plain fun! I recommend the Journey-fit to anyone who needs to move out of their comfort zone and take time to nourish yourself in mind, body and soul.
Tina: Thanks for a truly memorable experience…….lots of genuine smiles.
Jenny: It was an amazing event and I thoroughly enjoyed it, even the pole dancing:) I am sure you are receiving a chorus of accolades.
Carole: I'm still flying high, feeling rejuvenated, and thinking about all the new, inspirational and cool chicks I just spent the last 3 days with! Jenifer and Tara, you nailed it. Namaste, Carole.
Cancellation Policy
Registration is first come/first served, and space is limited
A 30% deposit is required by check, cash or credit card to secure your spot (Deposits are fully refundable up to 30 days prior to departure)
Deposit is fully refundable within 7 days after signing up, as long as it is within 30 days of the departure date
The 70% balance is due 30 days prior to trip departure
If you need to cancel after the balance is paid, there will be a 50% cancel penalty 4 weeks before trip departure, 75% cancel penalty 3 weeks before departure and 100% 2 weeks before departure
Pricing for private trips is based on full occupancy.
**Exceptions to our cancellation policy cannot be made for any reason, including weather, terrorism, civil unrest or personal emergencies.  There is no refund for arriving late or leaving a trip early.